Five Welsh universities to drop tuition fees to £7,500 or below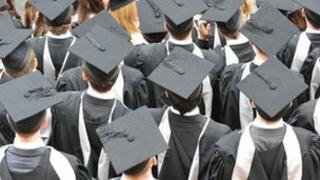 Five Welsh universities intend to drop tuition fees to £7,500 or below for the 2013-14 academic year, it has emerged.
It follows a decision by the Higher Education Funding Council for Wales (Hefcw) to change the way it allocates student places.
The University of Glamorgan, Trinity St David, Cardiff Metropolitan, Newport and Swansea Metropolitan will cut fees.
Hefcw has also altered the way it rewards institutions which are prepared to lower their fees.
From September 2012, universities will be able to charge students up to £9,000 for their courses.
The Welsh government will help pay the higher charges for Welsh students, wherever they choose to study.
But to reduce the amount paid out on those fee grants and leave more money in the pot to invest in core areas like research and teaching, Hefcw has developed a different formula.
The funding council decides how many full-time first year undergraduate student places are awarded to each university in Wales for the the 2013-14 academic year.
Its new scheme rewards the institutions that choose to lower their fees to £7,500 or below from 2013-14 onwards.
They will also receive extra places if they meet important Welsh government targets like research, and overseas recruitment.
The places are all in so-called non-priority subject areas like the arts and humanities. Places on priority courses like sciences and technology are protected.
Prof Philip Gummett, chief executive of Hefcw, said: "This reallocation of student numbers in 2013 is a practical solution to ensure that expensive and priority subjects get the investment they need, and helps protect research funding, which is crucial in enhancing Wales' knowledge economy.
"We believe it will provide the right balance of funding for the HE sector in Wales to benefit students, communities, Wales and the universities themselves."
But there are winners and losers.
On paper, Aberystwyth University is worst hit. It will potentially lose 513 places compared to 2012. It will of course still generate income though from the higher fees.
The University of Wales Newport said that despite opting to drop its fees to an average of £7,500, it was still potentially going to lose more than 300 places.
It claims this is a 20% cut in its numbers.
In contrast, the University of Glamorgan could gain more than 800 students.
A University of Wales Newport spokesperson said: "We are deeply disappointed that despite our constructive approach where we offered to work with Hefcw to overcome what we believed was an unintended consequence of their plans, they are forcing through a cut of 20% in full time student numbers in Gwent."
Swansea Metropolitan University, Cardiff Metropolitan University and the University of Wales Trinity St David have also indicated they will drop their fees from 2013.
Glyndwr University had already set a fee level below £7,500.
Like Aberystwyth, Cardiff, Swansea and Bangor have opted not to drop their fees from the maximum £9,000.