Gavin Henson dropped by yogurt firm Nestle Chilled Dairy after Blues sacking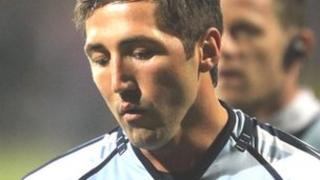 Gavin Henson has been dropped as the face of a brand of children's yogurt after getting drunk on a plane trip from Glasgow.
The Wales international lost the sponsorship deal with Nestle Chilled Dairy days after he was sacked by the Cardiff Blues rugby team.
The company said it had recruited him for a story-writing competition but terminated his contract because of "his unacceptable behaviour".
Henson has apologised for his actions.
A Nestle Chilled Dairy spokesman said: "We recruited Gavin for this year's Munch Time children's story-writing competition because he is a committed father of two.
"We decided to terminate the contract in light of reports about his unacceptable behaviour."
Apology
Henson, who has two children with Charlotte Church, was drunk on a Flybe flight on Saturday as the Cardiff Blues team flew back to Wales after losing a game in Glasgow.
BBC Wales understands that Henson threw ice cubes around the cabin and that some of the cabin crew refused to serve him.
Blues chief executive Richard Holland then made him apologise personally to the flight attendants concerned.
On Sunday, Henson had issued an apology which said: "I have let my team-mates, coaches, management, sponsors and indeed my family down with my actions.
"Drinking on that plane was inexcusable and I know that I must take responsibility for it."
Cardiff Blues later ended his contract and said it "sends out a clear message that behaviour like that will not be tolerated".
Flybe also banned Henson from flying with it for six months.