Engines fail on plane carrying parachutists, says AAIB report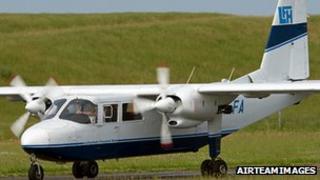 Both engines failed on an aircraft taking parachutists on a flight from Swansea Airport last summer, an air incident report has revealed.
The plane, operated by Skydive Swansea Ltd, entered cloud at 8,000ft (2,438m) when its engines iced up.
The pilot said he had entered a sleet storm inside the cloud and the aircraft went into a glide.
After descending out of the cloud, the pilot was able to restart the engines and land safely.
There were eight parachutists on board during the flight on 27 August last year.
It was the company's fifth such flight of the morning.
'Coped perfectly'
The pilot turned on the engine anti-icing controls after entering the sleet storm but the power fell away as ice built up in the air intakes.
After restarting the engines, the power was slowly increased and no further faults were found.
The parachute jump was abandoned and the aircraft returned to Swansea Airport.
The incident report by the Air Accidents Investigation Branch (AAIB) concluded that the anti-icing controls should have been turned on before the freezing conditions were encountered.
Carl Williams, the owner of Skydive Swansea, stressed that the Britten-Norman Islander aircraft landed on full power with no further problems.
"The pilot is regularly drilled on these things. He obviously has to pass all the examinations and gets re-tested. He coped perfectly," he said.
"He was able to relight the engines in about 30 seconds."
The company has since sold the plane and acquired a larger aircraft which can carry up to 16 parachutists at a time.