Enterprise zones: Talks to extend tax breaks in Wales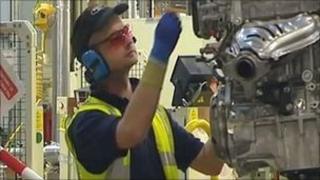 Five new enterprise zones designed to help companies expand in Wales have officially opened for business.
Companies will have access to a range of benefits, but tax breaks for investments in new machinery are only being introduced on Deeside.
The Welsh and UK governments are in talks to make the same allowances available elsewhere.
The sites at Anglesey, Cardiff, Deeside, Ebbw Vale and St Athan are designed to attract a specific sector.
They are the first new zones to come in to operation since the 1980s.
Business Minister Edwina Hart said discussions were continuing on the viability of extending enhanced capital allowances across Wales.
She said: "We have had ongoing dialogue with the Treasury and we said from the outset that we will take a bespoke approach at each location, tailoring our offer to best effect.
"Deeside is of great strategic importance to Wales for advanced manufacturing and enhanced capital allowances will cement its competitive position and encourage new investment.
"The Treasury has already responded constructively to my challenge and are continuing to work together for a strong outcome."
Brian Morgan, professor of entrepreneurship at Cardiff Metropolitan University, believes the enterprise zones have a good chance of succeeding because of Wales' delegated powers.
'Long overdue'
"A key element of the enterprise zones will be to offer enhanced capital allowances to new companies setting up in the those zones," he added.
"So, that means they will be able top write off qualifying plant and machinery in the first years and subsequent years up to about 100%."
Cardiff council's Liberal Democrat leader Rodney Berman said it would help the city compete with English cities and regions.
"I have lobbying for this to happen for some time and have written to the first minister to urge that enterprise zones are introduced as this is the only way we can be placed on a level playing field with cities such as Bristol," he added.
Conservative business spokesman Nick Ramsay called the announcement long overdue.
"Many will fear this announcement, which contains no detail or substance to support Welsh businesses, is simply a knee-jerk reaction to the loss of the £355m Jaguar Land Rover plant," he added.
Plaid Cymru supports the idea but said Wales missing out on the bid to host the UK government's "Green Investment Bank" in Cardiff was "the first serious test of this Welsh government's new enterprise zones policy and they have been found sorely wanting as its bid for the Green Investment Bank failed to pass the first hurdle".