Bristol 'opportunity not threat' to Cardiff Airport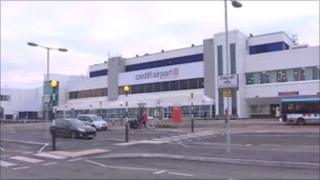 The chief executive of Bristol Airport has called on the Welsh government to view his expanding business as an "opportunity not a threat".
Robert Sinclair said he was keen to work closely with Wales' tourism bodies to improve the services "we [Bristol] provide for Welsh passengers".
He said about 700,000 of Bristol's 5.7m passengers come from Wales. Cardiff saw just over 1.2m passengers last year.
First Minister Carwyn Jones is to head a task force on Cardiff's "weaknesses".
He has criticised the Rhoose site's Spanish owners, Abertis, and said he would not want to welcome visitors to Wales through Cardiff Airport because it gives a bad impression of the country.
His comments came after it emerged that passenger numbers fell 13% last year to a little more than 1.2m. Over the same period, passenger numbers at Bristol rose 1% to more than 5.7m.
Abertis has said it wants to work with the Welsh government.
But Cardiff is not the only airport which wants close co-operation with ministers at Cardiff Bay.
Bristol boss Mr Sinclair told BBC Wales' Eye on Wales programme that south Wales was "very much part of our core catchment area".
He said: "Certainly we don't focus on national borders. In fact, we're only 24 miles from the border, so we're very, very close.
"Newport, is in fact, half way between Bristol and Cardiff Airport and, certainly, we see the Welsh market as a very important for us.
"We're quite concerned that the debate is very much focused around the national border, as opposed to what's in the best interest of Welsh passengers."
He said he wanted the Welsh government to view "Bristol Airport as an opportunity and not a threat" and hoped the Welsh government would work with the airport "to look at ways in which we can actually facilitate increasing and improving services that we provide for Welsh passengers".
"We're keen to work more closely with with some of the tourism organisations in Wales to actually promote Wales as a tourism destination, using the route network at Bristol.
"We think that's the sensible approach."
Low budget airline
Mr Sinclair said he had written to Mr Jones in the hope they could discuss they way Bristol Airport can "provide the connections and air services for the people of Wales".
A Welsh government spokesman said: "The first minister has repeatedly made his position clear - he wants Cardiff Airport to grow and become world class and is not satisfied with the current situation.
"To achieve this he feels it is important that we recognise the airport's weaknesses in order that we can move forward.
"The first minister has announced he will be assembling a task-force to address all these issues and will make a further announcement on its remit shortly."
On Saturday, the first flight by low budget Spanish airline Vueling landed from Barcelona.
Vueling unveiled its service to Barcelona in October last year, two days before Bmibaby halted its services from Cardiff amid concerns at falling passenger numbers.
Vueling will operate flights on Tuesdays, Thursdays and Saturdays.
Eye on Wales is broadcast on BBC Radio Wales on Sunday 1 April at 13:00 BST