Former Archdruid of Wales Emrys Roberts dies at 82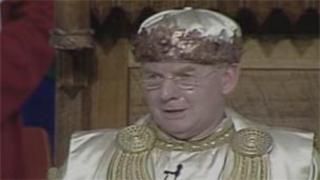 Former Archdruid of Wales Emrys Roberts has died at the age of 82.
He led the Gorsedd of Bards at the National Eisteddfod between 1987 and 1990 under the bardic name Emrys Deudraeth.
A former headteacher at Ysgol y Banw in Llangadfan, Powys, he was an accomplished poet and children's author.
He won the chair at the National Eisteddfod twice - in Bala in 1967 and Bangor in 1971.
Former Archdruid of Wales Dr Robyn Lewis said Mr Roberts, who was born in Liverpool in 1929 was brought up in Penrhyndeudraeth near Porthmadog, would be badly missed.
"He had been suffering from ill health for 10 years or more. His health had been deteriorating," he said.
"He made a big contribution to Welsh cultural life. He was very well liked and appreciated as an archdruid.
"I shall view his passing with great regret and so will a lot of Welsh people, especially eisteddfod people."