North Wales super-college Grwp Llandrillo Menai formed from mergers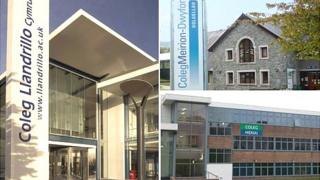 A new "super-college" which is the largest further education institution in Wales is launching after being given the go-ahead by the Welsh government.
Three north Wales colleges are merging to create Grwp Llandrillo Menai - Coleg Llandrillo, Coleg Menai and Coleg Meirion-Dwyfor.
It will deliver courses to about 34,000 students across four counties in campuses from Denbigh to Dolgellau.
It will also have business and research facilities and a £70m annual budget.
The new college, which will employ 2,000 staff, said it would focus on providing skills that will ensure competitiveness and success for the north Wales economy.
It said it would widen opportunities through an expanded curriculum and offering improved opportunities for learners.
There will also be the opportunity to study for degrees and professional qualifications at the college thanks to a link-up with Bangor University.
A new university centre at Coleg Llandrillo is planned for the Rhos-on-Sea campus.
The proposed merger was approved in March by Education Minister Leighton Andrews and, after months of planning, the college begins its first day of operation on Monday.
Umbrella organisation
The new Grwp creates an umbrella organisation to oversee the operation of the three member colleges, and completes the process begun two years ago when Coleg Llandrillo Cymru merged with Coleg Meirion-Dwyfor.
Glyn Jones, chief executive officer of Grwp, said the merger was good news for students, employers and the wider community.
"Through creating the Grwp structure, we will build on the successes of the existing colleges by widening opportunities, developing specialisms and investing in first-class facilities," he said.
"We set a high priority on working with partners to ensure we can make a major contribution to the economic success of the region.
"We also aim to share good practice in key areas such as bilingual provision and make sure we offer an outstanding experience to all of our students - whatever type of provision they choose."