Grand Slam: Almost half of Wales watched rugby team win Six Nations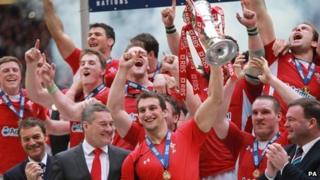 Almost half the population of Wales watched the national rugby team beat France to win the Six Nations Grand Slam on TV, BBC figures show.
A million watched the game on the BBC - the highest TV audience in Wales in two years - and a further 400,000 saw coverage later in the weekend.
A BBC Cymru Wales commissioned audience survey also revealed 300,000 watched the match in a bar, pub or rugby club.
The BBC said the figures highlighted Welsh passion for rugby.
The Six Nations had record average audiences in Wales of 800,000 across Wales' five matches and the average audience during the final periods of Wales' five matches were the highest ever for any Five or Six Nations campaign.
The survey carried out by Beaufort Research found that a quarter of adults under 35 in Wales watched Wales win their third Grand Slam since 2005 in a club or bar, with twice as many men as women watching the game in clubs and bars.
However, the audience in all other locations was evenly split between men and women.
About 200,000 people also claimed to have heard pre- or post-match analysis on BBC Radio Wales and 84% of respondents to the survey said it was important to them that the BBC provided full coverage of all Six Nations matches.
BBC Cymru Wales' head of marketing, communications and audiences Richard Thomas said: "We know that the audiences' appetite for rugby in Wales is massive, but these figures show just how passionate the people of Wales are about their rugby.
"We are proud that we were able to provide so many people across the nation with our coverage and in-depth analysis of this major sporting event for Wales."