Trinity Mirror reshuffles editors at Daily Post, Wales on Sunday and Wales Online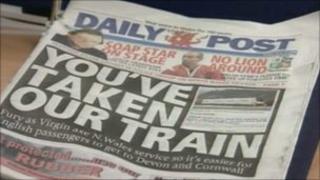 Newspaper group Trinity Mirror has announced a reshuffle of editors at its titles in Wales.
The restructure was sparked by the departure of Rob Irvine, editor of the north Wales-based Daily Post, who takes over at the Manchester Evening News.
He is being replaced by Alison Gow, who leaves the editorship of Wales on Sunday and website WalesOnline.
She is succeeded at Wales on Sunday by Simon Farrington, and Ceri Gould is promoted to editor of WalesOnline.
Steve Anderson Dixon, managing director of Trinity Mirror North West and Wales, said: "It gives me great pleasure to announce these appointments today.
"Alison, Simon and Ceri come with a solid pedigree in the Welsh media and will bring their invaluable insight, experience and journalistic judgement to their new roles.
"I wish them all the very best in their new positions."
Pembrokeshire-born Ms Gow, a former deputy editor of the Liverpool Daily Post, said she was delighted to be joining the Daily Post.
Trinity Mirror is one of the UK's largest newspaper publishers, with five national and more than 130 regional newspapers, including the Western Mail.