Dewi Sant church in Toronto looks to Wales for minister's job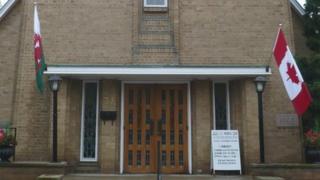 The only remaining Welsh language church in Canada is advertising for a new minister in newspapers in Wales.
Dewi Sant Welsh United Church in Toronto, Ontario, is believed to be one of the few churches in North America still holding services in Welsh.
The church was set up in 1907 by two Welshmen - one from Anglesey and one from Denbighshire.
A church spokesperson said they were looking for a Welsh speaker to help "grow the Welsh culture in Toronto."
The church originallyadvertised for the jobon its website in June 2011, but nearly 10 months after that was posted it is still looking to fill the vacancy.
And so it has turned to newspapers in Wales with an advert appearing in theDaily Post.
The church has a Welsh language service on the first Sunday evening of the month.
The congregation provides care and support to 190 resident members and another 160-180 families and individuals who are associated with the church.
'Foundation stones'
Average Sunday attendance is about 65 people and the Sunday school has about a dozen students.
"What unites the congregation is the intense loyalty of its members to the Welsh fact and tradition," says the information.
"The majority of its members joined the congregation because they are immigrants from Wales, are of Welsh descent or by association through marriage."
The Reverend Deian Evans emigrated from Criccieth in Gwynedd, and was minister for six years before returning to north Wales.
The congregation put an interim minister in place following his return to Wales in 2010.
In Ontario, there are over 200 different languages but Welsh, although spoken in very small numbers, is said to be one of the original "foundation stones".
A church spokesperson told BBC Wales: "We are searching in Wales because our priority is to find a Welsh speaking minister to continue and grow the Welsh culture in Toronto."