Helicopter to fight grass fires in new crackdown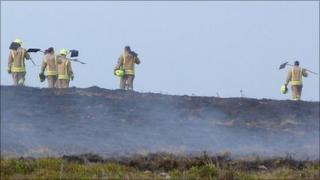 A crackdown aimed at reducing the number of grass fires in parts of south and mid Wales over Easter is being launched.
A specialist helicopter will be used to fight the flames as part of Project Wildfire.
It is a partnership between two fire services, the Forestry Commission and Brecon Beacons National Park.
Fire crews have received hundreds of calls about grass fires across Wales over the last 48 hours.
Since Monday, crews have been tackling numerous blazes, according to Mid and West Wales Fire and Rescue Service.
A grass fire spread to a house, garage and electricity poles in the Swansea Valley on Tuesday.
Meanwhile, Mid and West Wales fire crews are still tackling a blaze at Preseli mountain, near Maenclochog, Pembrokeshire.
And in north Wales a large grassland fire continues at Llantysilio, near Llangollen, Denbighshire.
Project Wildfire is being launched at Cwm Cadlan reservoir in the Brecon Beacons in response to the hundreds of grass and forest fires in Wales each year.
Forestry Commission Wales will work closely with both Mid and South Wales Fire and Rescue Services to combat the fires and is providing the helicopter.
Peter Cloke, of Forestry Commission Wales, said: "The strong partnership that has been developed between the fire and rescue services and Forestry Commission is ensuring the grass fires that plagues south Wales every year are being dealt with in an efficient manor."
The fire services have also invested in new equipment to tackle the fires as well as the various prevention, education and enforcement campaigns and initiatives.
"We welcome the investment in new specialist equipment that the fire and rescue services have made and feel this will make a big difference to how quickly fires are dealt with," added Mr Cloke.
Extensive damage
Acting assistant chief fire officer of operations at south Wales fire service, Andrew Thomas, said the only way to tackle the recurring problem was a concerted effort by all interested agencies.
He added: "We are extremely fortunate that the issue has been fully embraced by the Forestry Commission who have provided us with this specialist helicopter equipment and pilot."
Last year, wildfires in the Brecon Beacons National Park caused extensive damage to more than 2,000 acres (810 hectares) of important moorland habitats.
A report was also released blaming bored youngsters for starting thousands of forest and grass fires in south Wales.
The Wildfires in Wales document found there were more than 55,000 grass and almost 550 forest fires in south Wales between 2000 and 2008.