£3m to help stop HMP Parc prisoners re-offending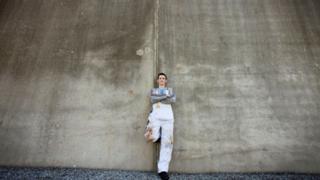 A project which hopes to prevent prisoners from re-offending has been awarded more than £3m from the Big Lottery Fund (BLF).
The Invisible Walls project at Parc prison, Bridgend, aims to help current and released offenders of all ages, as well as their families.
Advice will be given on parenting, relationships, debt, education and employment, and other areas.
BLF said it was the most money given to a single project in Wales.
It claims the project is unique because it works with current and released prisoners at HMP Parc, as well as youth offenders at YOI Parc.
The grant of £3,137,466 will allow the project to work with prisoners, their families and their children.
It aims to offer help similar to that provided while inmates are in prison.
It is hoped that helping offenders with training and education, as well as advice on issues like housing advice and physical health, will deter people from returning to crime.
Sir Adrian Webb, Wales chair of BLF, said: "The Invisible Walls project will see intensive support provided to prisoners and their families both inside prison and after release to help with resettlement and to curb the destructive cycle of re-offending.
"Prevention is better and cheaper than cure and there is a growing body of evidence that if preventative interventions are effective, we can all spend less money on services such as prisons, acute medical care and drug rehabilitation."
Corin Morgan-Armstrong, senior manager at HMP & YOI Parc, said the project would allow its family interventions unit to "focus entirely upon the importance and skills necessary to repair, develop, and maintain a healthy family relationship".
He added that they were looking to involve and support families of prisoners through the project.
'At risk'
Mr Morgan-Armstrong said the aim was to "derail intergenerational offending, which in itself in south Wales sees a disproportionate amount of young boys following their fathers into the revolving door of crime, court and prison".
Some of the funding will go to Barnardo's Cymru, which will offer "parenting and family support programmes".
Its director, Yvonne Rodgers, said: "The children of prisoners are about three times more at risk than their peers of committing antisocial or delinquent behaviour, and more than twice as likely to have mental health problems.
"Almost two thirds of boys with a convicted father go on to offend if we do not intervene."