Warning over school term holidays in Wales by NAHT Cymru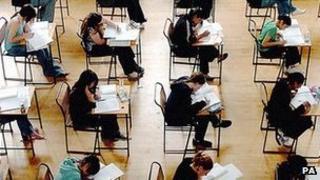 Parents in Wales are being warned it will become more difficult to take children out of school for holidays during term.
Head teachers' union NAHT Cymru said a "harder edged" approach would mean more refusals for permission.
Attendance is taken into account when secondary schools are ranked on performance by the Welsh government.
The Welsh government says it welcomes recent local authority efforts to deter parents from holidays in term time.
One council launched a crackdown on attendance after it pointed out an average pupil misses a year of school during their 12 years of mandatory education.
Anna Brychan, director of head teachers' union NAHT Cymru, said: "The Welsh government has put in place these harder edged accountabilities for attendances and, fundamentally, we wouldn't have any disagreement with that because those pupils do need to be in school.
"What it will mean is that head teachers who have exercised discretion in the past will be much more limited and that could mean difficult conversations [with parents] in future.
"Some parents are going to find the refusal hard to take. They do already. It's not that these kinds of permissions are given lightly now."
Teachers and unions say parents who pull their children out of school to take holidays risk harming their education.
But they say they understand the financial pressures on parents, and that visiting a foreign country can be educational.
Rhys Jones, head of Treorchy Comprehensive School in Rhondda, which had a 93.5% attendance rate last year, said: "I do think it has an adverse effect on a child's education if they're out for two weeks in a year.
"If they're not in school they cannot learn. If you are looking at 10 school days, that's 50 lessons, 50 hours of work.
"If you are trying to catch up, it's a task and a half, and you are always playing catch up. You also miss the teacher explanations."
But Mr Jones, whose school is ranked in the highest band 1 for performance by the Welsh government, said there was another side to the story.
"I do totally understand why parents take their children out - and that's the cost. Sometimes parents are tied by their own leave but for the majority, it's down to the cost," he said.
"I do also believe going on holiday, abroad particularly but also in this country for that matter, is educational.
"I went abroad as a child and learnt a lot."
Figures for Rhondda Cynon Taf (RCT) show that of the 12 years of statutory schooling, the average pupil attends classes for a total of only 11 years.
It is attempting to improve attendance in a bid to raise children's standards of achievement.
The council said if children had good attendance levels they were likely to achieve better exam results.
RCT's absence levels are a little above the average in Wales for 2010/11 and, although figures are improving, Wales lags behind England.
Education Minister Leighton Andrews said earlier this year there would be zero tolerance of truancy, however there is still room for manoeuvre over holidays.
Welsh government policy is that parents should not normally take pupils on holiday during term time but schools have the discretion to grant up to 10 days authorised absence for this purpose.
It adds that this should be used sparingly and should not be considered the norm.
Each request should be considered individually and take into account factors such as the pupil's age, the timing of the proposed holiday and the overall attendance pattern of the pupil.
The Welsh government does not currently collect data on this but said it was gathering more detailed information about absences from this academic year.
'Difficult conversations'
It also said local authorities were now taking a "strong view" on absence and it welcomed "their efforts to stop parents taking their children out of school for holiday".
"Following the inclusion of attendance data in the banding for secondary schools, local authorities are now taking this issue more seriously," said a spokesperson.
"As part of our delivery of thebehaviour and attendance action plan, we have held individual meetings with all local authorities to discuss their performance on school attendance and behaviour and what additional tools they need to secure regular school attendance such as fixed penalty notices."
Huw Williams, who has previously taken his two children out of their Cardiff primary school for a skiing holiday, said the practice should be allowed in certain circumstances.
"I think it depends where they are on the curriculum," he said.
"I wouldn't do it after Year Five or Six [the last two years of primary school] because they can miss days through illness too," he said.
"Maybe after a certain age you should only be allowed five days maximum.
"The school gets assessed on attendance so it also depends on the pupil. There should still be discretion."