Paralympian Baroness Grey-Thompson left to crawl off train at King's Cross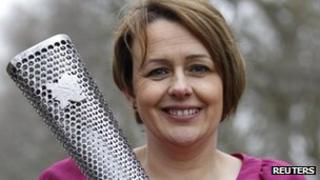 Baroness Grey-Thompson has called for better public transport services for disabled people after revealing she had to crawl off a train in London.
The Paralympian gold medallist, a regular commuter from north-east England, said she was left stranded at King's Cross station at midnight.
The baroness, who was born with spina bifida, said she had requested assistance in advance but none arrived.
Train operator East Coast apologised, citing factors outside its control.
"I was on a train that got into King's Cross in London at midnight," said the Cardiff-born former athlete about the recent incident.
"No-one came to help me so I waited 10 minutes then transferred myself from the seat onto the floor, and pushed my wheelchair towards the door of the train.
"Some construction workers saw what I was doing and ran over to help. But if I hadn't been able to get myself to the door I would have been stuck on the train until it was locked for the night."
Lady Grey-Thompson, who is Transport For London board member and lives in Redcar, explained that she had requested assistance before travelling.
"There's a system where you have to book 24 hours in advance for someone to help you off the train, but you cannot book on a Saturday or a Sunday and have to book on a Friday for a Monday," she told BBC Wales.
"You have to specify the exact time. It's hit and miss."
'Irritated'
Lady Grey-Thompson said she regularly received offers of help from members of the public, but they were unable to operate the ramp used to allow wheelchair users to transfer from the train carriage to the station platform.
Asked whether she had been worried for her safety, she said she was more "irritated".
"If there's a breakdown in communication, or they forget, it's hard. It happens about once a month to me.
"At least you know in London that the train is not going to go anywhere else. It's going to terminate there.
"I have had people writing to me saying they've tried to get off a train in York but have ended up having to go on to the next stop."
The baroness is appealing for as many as possible to participate in a project on public transport accessibility by sending in their travel experiences.
"We're asking disabled people to tell us about good journeys as well as bad ones as that's important too," she said.
"We want more disabled people to use public transport. At the moment it's not great. But it's about changing attitudes towards disabled people."
'Assistance'
East Coast explained that Baroness Grey-Thompson's train was delayed by 90 minutes after it was involved in an earlier fatality south of Peterborough.
"Our night shift team at King's Cross worked hard to help as many passengers as possible - including providing more than 60 taxis for those who missed connecting underground trains - but unfortunately were unable to help Dame Tanni at the same time," said a spokesman.
"The train guard was able to provide Dame Tanni with some assistance.
"We are sorry that on this occasion, due to disruption caused by factors outside our control, our normally high standard of assistance to customers with mobility issues could not be provided."
Network Rail said it was aware of reports about the incident and was investigating what happened.
A spokesman said: "It is disappointing to hear of this kind of experience from anyone in an environment where Network Rail and the train operating companies are working together to increase opportunities for disabled passengers to access railway services."
The Association of Train Operating Companies (Atoc) said companies were committed to providing the service disabled passengers expected and deserved and would continue to invest in improvements to increase access.
The association said the new assistance booking system - Passenger Assist - had been designed with input from disabled passenger groups and was leading to improved levels of overall customer satisfaction.
"Over the past five years the number of disabled passengers travelling by train has doubled to over three million journeys a year," said a spokesperson.