Energy efficient Larch and Lime House in Ebbw Vale take first tenants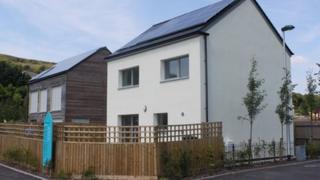 Two families are moving into a pair of the most energy efficient homes in Wales to live rent free for a year.
Larch House and Lime House in Ebbw Vale, Blaenau Gwent, are prototypes in eco-friendly social housing.
The families are part of a project to find out how well the homes operate when used in a normal, day-to-day way.
Nyree and Anthony Jones and daughters Shannon-Lee and Demi, from Cwm, and Chloe Thomas and partner Stuart-Carl Barnes were picked by competition.
The keys were handed over to the two couples by Welsh Housing Minister Huw Lewis in a ceremony marking the start of 12 months' scrutiny of the homes and how they are affected by the activity of those they house.
Both properties were developed by Blaenau Gwent council and United Welsh Housing Association, based in Caerphilly.
Three-bedroom Larch House House was built for the 2010 National Eisteddfod in Ebbw Vale, on a former industrial site that is 1,000ft (300m) up, on an exposed and misty hilltop.
It was the UK's first zero carbon "passivhaus", the German phrase for passive house, meaning a property that requires little energy for heating or cooling.
With features such as solar thermal and photovoltaic (using solar panels to convert sunlight into electricity) panels on the roof and the large south-facing triple glazed windows and its construction from close-fitting wooden panels which cut draughts to almost nil, it has won a number of awards for its energy efficiency.
It takes its name from the Welsh larch timber cladding.
The Design Commission for Wales, the Welsh government architectural watchdog, estimates that despite its location, Larch House generates as much energy from the sun in the summer months as it uses through the rest of the year.
But the property has stood empty since it was built.
So the figures collected on its temperatures and energy use over the past few months will act as a baseline in the next phase of the environmental monitoring project once people move in and begin using the house as a home.
A spokeswoman for United Welsh said: "We've seen the effect on the house with no tenants, now we need people to live in it and have a normal family life.
"There will be regular contact with them, probably monthly phone calls, to see if they have been doing anything different just to see how the house is affected by everyday life."
The families were selected from applicants who had to have a connection with the Blaenau Gwent area.
Like its next-door neighbour, two-bedroom Lime House, which is named after its lime render, uses a highly efficient heat changer to keep down tenants' energy bills.
Lime House was cheaper to build and looks more like a traditional Welsh cottage with most of the wood, insulation and tiles used in its construction coming from Wales.
The triple-glazed insulated windows and solar panels were made in Wales while local engineers adapted the German framing technique used in Larch House to use faster-growing, softer Welsh timber.
United Welsh manages more than 4,700 homes across 11 local authorities.
The current weekly rent for a Blaenau Gwent three-bedroom house is £74.03.
Mr and Mrs Jones said: "We cannot wait to have a garden where the girls can safely ride their bikes and have the space to grow as a family.
"We will share all that we learn about energy awareness and eco-living."
Production worker Mr Barnes and nursery officer Ms Thomas, who are expecting their first child in May, have been living with their parents until now saving for their own place.
Mr Lewis said: "Many Welsh households are feeling the pinch of the economic climate and some are facing real fuel poverty, so making ends meet is as important as ever.
"This is a fantastic opportunity for two lucky families to experience how living in a low carbon property, developed with Welsh government support and built using local expertise and sustainable local products, helps protect the environment while cutting down on household fuel bills."