Titanic anniversary: Piecing together story of ship's captain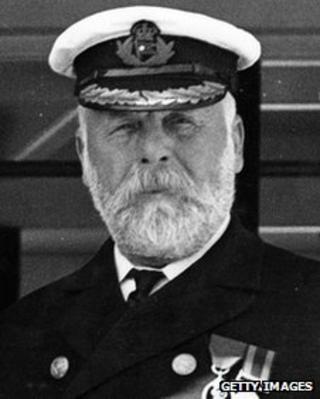 The actions of the Titanic's captain on its fateful voyage 100 years ago have inspired numerous colourful accounts, but for one man with a closer link to events than most, they will only ever tell part of the story.
Depending on which version of events you believe, in the time leading up to the ship sinking, Captain Edward Smith may have been heroically rescuing a child, hiding away in his quarters, or just doing his job.
There are also his celebrated, but possibly apocryphal, last words to his crew: "Be British".
Regardless of fact and fiction, it is fair to say a number of colourful stories have attached themselves to his last hours.
However, for 39-year-old Spencer Smith, who is related to the captain through his great-grandmother on his father's side, there is another story waiting to be told that may offer a different perspective.
Mr Smith, who is from Wrexham and now lives in Newtown, Powys, says few details about the captain's life away from the oceans were passed through the family.
But through family research, he now hopes to find out a different side to the experienced seaman.
"It's very emotive for me and I've always felt the same sort of way," he said.
"The more you find out about the finer detail, the more you find out about him as a person.
"What did he do all day? What was he like as a person?"
He is working with his family, particularly his father, to help put more flesh on the bones.
He hopes the real Captain Smith will emerge, one that may be different from the myths and hyperbole of the Titanic story.
Mr Smith, an archaeologist with the Royal Commission on the Ancient and Historical Monuments of Wales, said his family had always told him about the link with Captain Smith.
"I was told from a small child who he was - we've always known," he said.
"All we were told was that we were related.
"There was no fuss made about who he was or what he did. He did his job and died doing his job."
Born in Hanley, Stoke-on-Trent in 1850, Captain Smith joined the White Star Shipping Line in 1880 and served aboard the company's freight liners around the world.
He was chosen to captain the Titanic, which had been labelled practically unsinkable, on her maiden voyage from Southampton to New York City.
Plenty has been written about his role on the voyage, but unravelling fact from fiction is not always easy.
What is known is that he was awoken about 20 minutes before midnight on 14 April after the ship hit an iceberg.
Some historians have said that Smith panicked, isolating himself on the bridge or locking himself away in his quarters while the crisis unfolded around him.
He has also been criticised for allowing lifeboats to leave the ship only partially filled.
But there are also tales of his behaviour during the evacuation which cast him in a more favourable light.
'Asleep at the time'
Aside from tales of helping children into lifeboats, it is believed he was last seen in the bridge area having given the final order to abandon ship, before he died at the helm.
He appears to have made no attempt to save himself.
"There's been a lot of scholarship, particularly in America, about everything that happened, more documents becoming available," said Mr Smith.
"It's being reassessed so you are able to get a more balanced idea of what actually happened in the run up and the whole aftermath.
"It's not just 'man hits iceberg with ship'.
"He was asleep at the time and he was off duty. Then suddenly they crash and he's in charge."
The Titanic sank in the Atlantic in the early hours of 15 April 1912, killing more than 1,500 people.
The 100th anniversary will certainly hold plenty of interest for the Welsh branch of Captain Smith's family.
"The last people died quite recently who were on the ship," he said.
"It's interesting for us as a family how people are going to cover the story now."