Digital X-ray system for Welsh hospitals to save £15m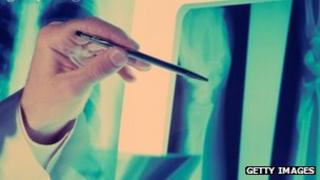 A new system enabling digital X-rays, scans and images to be transferred quickly and easily between hospitals is being introduced throughout Wales.
The Welsh government said the picture archiving and communications service (Pacs) would save the NHS up to £15m.
A seven-year contract for the scheme, worth around £20m, has been awarded to Fujifilm.
Some hospitals can already share digital X-rays, but some systems are not compatible.
Betsi Cadwaladr University Local Health Board will be the first to go live with the new service in the autumn.
The Welsh government said savings would be made as local health boards moved across to the new service.
Health Minister Lesley Griffiths said: "By working together to buy a common service through a framework contract, significant savings can by achieved.
"Since digital imaging was introduced into our hospitals some years ago, we have seen how immediate access to medical images can improve the speed and effectiveness of diagnosis.
"However, problems in sharing images between organisations because systems were not compatible meant we have not been able to realise the full benefits of this technology."
The Welsh government said patients frequently received treatment away from the place where the original X-ray or scan was taken.
"This may mean a patient has to have a repeat scan or X-ray as the original images are not available, or treatment is delayed while the images are transferred," said a spokesperson.
The new Pacs service will mean all images, regardless of where they were taken originally, will be available where and when they are needed.
Hospital X-ray machines work by passing an X-ray pulse through a body onto radiographic film.
The X-rays pass through softer tissue but are mostly absorbed by hard bone - leaving an image in which the skeleton and tissue are clearly distinguishable.
Dr Keith Griffiths, of Betsi Cadwaladr University Local Health Board and chair of the Pacs programme board, said: "This framework agreement with Fujifilm not only modernises the way these images are interpreted and stored, but allows significant financial savings to be made across all the Welsh health boards."