Badger TB vaccinations must be tried, says Wales' chief vet, Christianne Glossop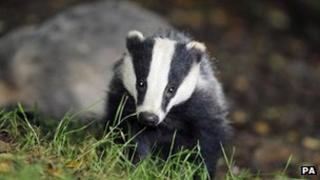 Vaccinating the badger population in parts of Wales is a valid contribution to the aim of eradicating bovine TB, says Wales' chief vet.
Christianne Glossop is known to have backed culling badgers to help prevent the infection spreading to cattle.
But the Welsh government has shelved plans for a cull as part of an attempt to rid cattle of bovine TB.
Ms Glossop told BBC Radio Wales' Country Focus programme that no measure on its own could eradicate TB.
The chief vet said it was "important we tackle all sources of infection".
The Farmers' Union of Wales has attacked the decision to drop the cull as a "cowardly betrayal", but the RSPCA said it was "delighted and relieved".
The previous Labour-Plaid Cymru coalition Welsh government had planned a pilot cull in west Wales.
But Environment Minister John Griffiths revealed last week that the now Labour-run Welsh government was scrapping the plan.
Instead, a five-year vaccination programme will start in the intensive action area - the TB hotspot in north Pembrokeshire where the cull was due to take place.
Ms Glossop told Country Focus that she could understand if farmers thought not going ahead with the cull was a "retrograde step".
But she said Mr Griffiths had considered "not just the scientific evidence but legal advice as well".
She said there was a need to address rate of TB infection in wildlife in addition to work already under way to limit its presence in cattle.
She said it was estimated that three in four badgers in the areas under scrutiny were not infected with the disease.
She said: "We don't know whether vaccination will provide us with the appropriate way of dealing with the wildlife element of infection.
"I believe it is really important to do something to address the wildlife reservoir of infection and the option on the table is vaccination.
"The concept behind this is to gradually build up immunity within the badger population and by definition, the number of infected badges over time will go down.
"There is no trial data to show that vaccinating badgers will make a difference on cattle herd breakdowns but it is a perfectly reasonable approach and there's no reason to assume that it won't work. We just have to try it."
She said that her view on whether she could prefer to see a badger cull or a vaccination programme was "no longer part of the discussion".
Country Focus is on BBC Radio Wales at 07:00 GMT on Sunday, 25 March, and at 05:30 on Monday, 26 March.