Fly-tipping hotspots are targeted as part of a Wales-wide clean-up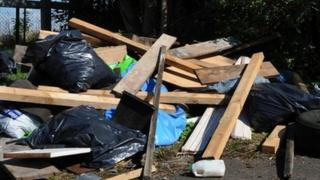 Householders across Wales are being urged to take responsibility for their own waste as part of a new campaign.
Around 41,750 cases of fly-tipping were reported in Wales between April 2010 and March 2011 - which is around four incidents an hour on average.
Clearing the waste, which is mostly household rubbish, costs Welsh tax payers around £2.2m a year.
The Fly Tipping Action Wales campaign is being launched on Friday at hotspots across the country.
"Together we want to reduce fly-tipping across Wales and improve public awareness of the problem," said environment minister John Griffiths.
"Fly-tipping is a serious environmental crime that poses a threat to people and wildlife, damages our environment, and spoils our enjoyment of towns and countryside."
Mr Griffiths said illegal dumping in Wales also has a significant annual financial coast.
"(It's) money that could be better spent on providing other services," he added.
Chris Mills, director of Environment Agency Wales - which is coordinating the campaign - said the dumping of waste was a problem for everyone.
"Some people believe that collecting waste and dumping it illegally for profit is acceptable - but they can and should be stopped," he said.