National Library of Wales puts oils collection online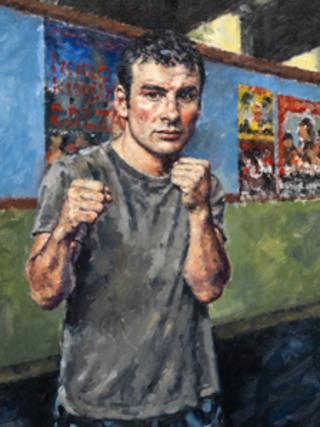 Paintings by artists from Turner and Gainsborough to the late Sir Kyffin Williams are among 1,950 the National Library of Wales is putting online.
The public is invited to help tag the collection which is focused around Welsh subjects, portraits and artists.
The oil paintings have been added to the website Your Paintings.
Andrew Green, of the national library said: "This new project brings a whole additional dimension to our aim of presenting Wales to the world."
The project, in partnership with the BBC and Public Catalogue Foundation (PCF), also includes works by Augustus John, Benjamin West, Ceri Richards, and Gwen John.
Your Paintings aims to create an online catalogue of the oils in the national collection, whether on display or in store.
Modern works, including the 21st Century, includes portraits of the footballer Ryan Giggs and the world champion boxer Joe Calzaghe.
Mr Green said: "We are delighted to be working in partnership with the PCF and the BBC to ensure that our wonderful collection of paintings is widely accessible.
"The oil paintings were the first collection to be published digitally by the library."
Tate director Nicholas Serota said: "The Your Paintings website is an important undertaking that will reveal the depth and breadth of the nation's collections of paintings, many of them published online for the first time.
"Through ambitious collaboration between organisations across the UK this bold project complements our ambition to connect audiences with art in an immediate way online, something we will take for granted in the future."
PCF director Andrew Ellis said: "No country has ever embarked on such a monumental project to showcase its entire painting collection online.
"Working with collections and individuals all over the UK, this project will reveal to the world the UK's extraordinary holding of oil paintings."
BBC archive content director Roly Keating said: "Our partnership with the PCF encapsulates so many of the BBC's ambitions, both as a public service broadcaster and key supporter of the UK arts sector.
"Your Paintings will be a hugely valuable learning resource for our audience and demonstrates the power of working with partners to open up the nation's cultural resources."