Knitter's 5,000 hats for soldiers serving in Afghanistan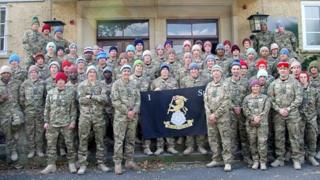 A woman has turned her love of knitting to helping British soldiers fight off the cold during Afghanistan's freezing nights.
Tina Selby, 50, from Penarth, Vale of Glamorgan, has posted almost 5,000 woolly hats to regiments in Helmand Province and has 1,500 ready to go.
Mrs Selby says she has also recruited a small army of knitters for her project, Hats for Heroes, since 2009.
Nine regiments have sent in photos of themselves with the donated head wear.
Mrs Selby said she turned her fingers to the task after a reading a plea in thePenarth Timesfrom a soldier serving in Afghanistan for people to send out "goody boxes".
She said: "I did that but I must have seen how cold it was out there and thought I could put a hat in there as well.
"Then I thought I could send out a box of hats."
Before the long her scheme had snowballed in to regular parcels of knitwear created by herself and her friends.
She now has donations coming in from people and groups around the UK and says she has at least 100 people knitting hats for service personnel.
The colour rules for knitters are simple - white must be kept to a minimum and no fluorescent colours can be used.
There are patterns on the website created for the project by husband Brian, a retired IT engineer.
Each hat is sent on its way with a chocolate bar.
Mrs Selby said: "They don't wear them when they are out on patrol because it's not part of their uniform but they have been wearing them in bed."
With the Afghanistan winter coming to an end, Mrs Selby is preparing for next posting of hats in September or October.
But that time, with the ones already collected at her home, she expects the number of hats sent to top 7,000.