FAW tackles homophobia as Stonewall diversity champion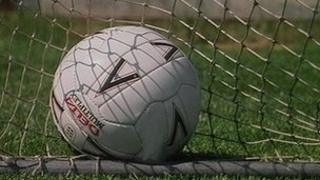 The Football Association of Wales (FAW) has signed up to a programme run by a gay equality charity to promote fair treatment for all.
Stonewall Cymru called the FAW's move a "great step forward" as its research showed homophobia was a "real issue in football".
Stonewall's diversity champions project ensures equal opportunities for all lesbian, gay and bisexual people.
The FAW joins 100 other organisations taking part in the programme in Wales.
Andrew White, director of Stonewall Cymru, said: 'By joining the diversity champions programme the Football Association of Wales have recognised that people perform better when they can be themselves.
'Our research has shown that homophobia is a real issue in football.
"This is a great step forward and signals the kind of leadership we hope to see more of in Welsh sport.
"We look forward to working with the FAW on tackling homophobia and making the 'great game' one that celebrates diversity of its fans and players."
FAW chief executive Jonathan Ford said: "At the Football Association of Wales, we seek to promote an environment in which all individuals, regardless of background, are offered a level platform on which to fulfil potential.
"Through a positive strategy of education, we are confident of continued progress."