University of Wales warns of restructuring redundancies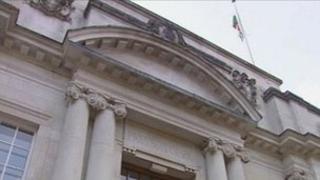 The University of Wales (UoW) has warned it may make redundancies after launching a consultation with staff and unions with a view to "restructuring".
All of the university's 212 full-time equivalent staff members are being consulted, but it would not say what scale of cuts are being considered.
It said it would aim to re-deploy staff where possible.
In 2011, BBC Wales exposed a scam where overseas students were offered help to cheat their way to UoW degrees.
In a statement on Tuesday, the UoW said it had launched a 90-day consultation with staff and unions and wanted to review its "business activity".
The university said it had been working with external consultants to identify cost reductions, but it would not comment on the level of financial savings hoped for, or any other cuts being considered.
It added: "These structural proposals may mean a reduction in staff numbers, and further information will be available once the consultation has ended.
"The University is committed to minimising compulsory redundancies and will implement a voluntary redundancy scheme and look to redeploy staff, wherever possible."
Legal action
Meanwhile, the future of higher education in south east Wales has been discussed by Education Minister Leighton Andrews.
He met with Cardiff Metropolitan University chair of governors Barbara Wilding and vice chancellor Tony Chapman on Monday.
Ms Wilding has previously threatened legal action if the college is forced to merge with the University of Glamorgan and the University of Wales, Newport.
Ms Wilding and Mr Chapman said it was the "first opportunity we have been given to meet with him to discuss this issue, which is of enormous importance and concern to the university including past, present and future students".
In a message sent to students and staff, they described a "constructive and good-natured" meeting with the minister, adding they would "do all in our power not only to negotiate an outcome that works for Wales but also one that safeguards the interests of students and staff".