Gareth Montgomery-Johnson and Nicholas Davies-Jones back in UK from Libya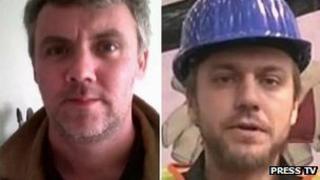 Two journalists, who had been detained in Libya, have returned to the UK, the Foreign Office has said.
Gareth Montgomery-Johnson, from Carmarthen, and Nicholas Davies-Jones, of Berkshire, were held by militia in Tripoli last month.
They had been working for the Iranian broadcaster Press TV, and were accused of entering the country illegally.
They were handed over to Libya's interior ministry and were freed after apologising for their actions.
Mr Montgomery-Johnson's sister, Mel Gribble, said on Monday that she was "absolutely exhausted" and "relieved" after speaking to her brother shortly after his release.
She added: "We exchanged only a few words on the phone, really, it's not because we didn't have the opportunity, I think it's just a case of, right we know you're ok, give me a ring when you need picking up from London.
"They've been on such a long, arduous journey, as we have, and the end goal is just to get him home."
The pair were detained by the Misrata Brigade militia on 22 February, and were handed over to the interior ministry on 14 March.