'Cancer choirs' charity scheme expanded in Wales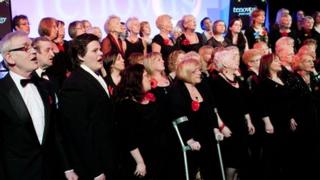 A cancer charity has been awarded £1m to set up choirs across Wales for patients and their families.
Tenovus first launched Sing with Us in Pontypridd in 2010 to see how singing could help cancer patients' mental wellbeing during treatment.
It has now secured funding from the Big Lottery Fund to set up another 15 choirs across Wales.
Pembrokeshire singer Connie Fisher, who is patron of the project, said it would help thousands of people with cancer.
The pilot choir in Pontypridd ended up performing for Princess Anne when she visited Cwmbran.
The success of that choir led to Tenovus looking to extend the idea.
The charity said being diagnosed with cancer could create a wide range of social and emotional problems.
Cancer suffers who joined the choir said they found it helped tackle feelings of isolation, depression and social exclusion.
Tenovus said people did not have to be good singers as it was all about choir members enjoying themselves.
Choirs are also open to their families, carers, friends and those who have been bereaved through cancer across Wales.
Angela Davies signed up after being diagnosed with inoperable ovarian cancer.
She said: "I go to choir every week with my husband Glyn and son Josh.
"It has made an enormous difference to my life and is a huge support.
"It has given me the confidence to get out of the house, meet a new family and given me a new purpose.
"I no longer feel I am battling the disease alone."
The Cardiff-based company Sing and Inspire will help set up the choirs over the next three years with Fisher's help.
She said: "The Sing with Us project is a wonderful project which will help thousands of people across Wales cope with cancer.
"It's a cause close to my heart as I have relatives who have suffered with cancer, and supporting initiatives like this are an inspiration."