Welsh tributes as Dr Rowan Williams, Archbishop of Canterbury, resigns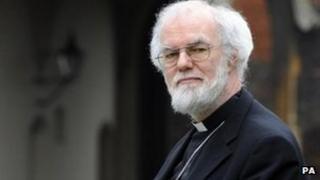 Tributes are being paid in Wales to Dr Rowan Williams for his work as Archbishop of Canterbury.
Swansea Valley-born Dr Williams has announced he is to stand down in December after 10 years in the post.
The Archbishop of Wales, Dr Barry Morgan, said Dr Williams had worked tirelessly over the past decade to hold the Anglican Communion together.
"Perhaps his true worth will only really be appreciated by the church once he's gone," he said.
Born in 1950 he was educated at Swansea's Dynevor grammar school before going on to Christ's College, Cambridge.
From 1991 to 1999 he served as Bishop of Monmouth, before becoming Archbishop of Wales.
When he was appointed Archbishop of Canterbury he was the first Welsh bishop to hold that post since the English Reformation.
He will take the position of Master of Magdalene College at the University of Cambridge from January 2013, his website says.
He said stepping down had not been an easy decision and said it had been "an immense privilege" to serve as the 104th Archbishop of Canterbury.
The 61-year-old Welsh speaker was appointed in 2002.
Dr Morgan said his fellow Welshman was "both humble and holy" and "always approachable" which had endeared him to many people.
"He has worked tirelessly over the past decade to hold the Anglican Communion together, taking very seriously the views of those who differ from him.
"He has tried to encourage everyone to work together, rather than to pursue their own agendas, and that is always a difficult task.
'Sterling service'
"In Wales, of course, we've been particularly proud of him and he's been a wonderful ambassador for our country.
"No doubt, being Archbishop of Canterbury has been a gruelling job for him and I expect he'll now be looking forward to returning to reading, writing and lecturing."
The Right Rev Dr Gregory K Cameron, Bishop of St Asaph, who was chaplain to Dr Williams when he was Archbishop of Wales, said he had given "sterling service in difficult times for the Anglican Communion."
"He has been a theologian and spiritual leader of outstanding worth and thoughtful stability, and he will make an excellent Master at Magdalene," he added.
When he was enthroned at Canterbury Cathedral Dr Williams broke with Anglican tradition by having one of his own translations of a Welsh hymn sung at the service.
It had a distinctly Celtic flavour with Welsh hymns and harp playing while Dr Williams wore vestments incorporating a dragon design, made by Welsh craftsmen.
Freedom of Swansea
Throughout his time as Archbishop of Canterbury he has maintained strong links with Wales.
Welsh secretary Cheryl Gillan said she wished him well in his future role.
"I would like to thank Dr Williams for the unyielding dedication and energy that he has given to his role as Archbishop of Canterbury over the last decade," she added.
"He has guided the church through what have been some challenging years and has been a wonderful ambassador to Wales throughout."
In 2010, he was granted the freedom of Swansea, an honour he described as "very special."
He said: "I've always been really proud to be a citizen of Swansea and always feel that it is still home even though most of my family are now dead, who lived here, but we still have friends here.
"In my very early youth, when we lived in Ystradgynlais, Swansea was the big city locally."
He is patron of the new 110 mile (177KM) long North Wales Pilgrim's Way which starts at Holywell's holy well in Flintshire and links to a pilgrim route on the Llyn peninsula, ending at nearby Bardsey Island.
An accomplished poet and translator Dr Williams has a number of upcoming engagements in Wales.
On Saturday 24 March he is to give a lecture about the poetry of Waldo Williams at Llandissilio in Pembrokeshire and is also due to speak about Welsh literature at the launch of Literature Wales' Cultural Tourism programme at the National Museum of Wales.
The following day he is taking part in a Welsh language service at St Fagan's Church, Trecynon.