PIP implants: Welsh health minister issue new advice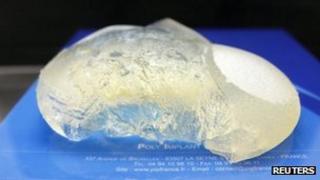 The Welsh government has issued new advice to women fitted with banned PIP breast implants before 2001.
It said until now it was believed only PIP implants made after that date were filled with unauthorised silicone gel.
Health Minister Lesley Griffiths said based on fresh information all women concerned they may have had the implants should speak to their surgeon.
The change is not expected to add significantly to the 1,000 cases so far identified in Wales.
PIP implants were never used by the NHS in Wales.
The Welsh government has agreed to pay to replace them for those treated privately only if there is a clinical need.
But it said there is still no clear evidence at present that patients with a PIP implant are at greater risk of harm than those with other implants.
Ms Griffiths said: "It remains the case that there is no clinical evidence to suggest that PIP breast implants should be removed routinely.
"We are continuing to meet with a range of private providers to remind them of their duty of care to their patients.
"My overriding concern remains the health and wellbeing of the women who received these implants. "
The minister said evidence suggests up to 7,000 women could have had PIP implants in the UK before January 2001.
The PIP implants were banned in March 2010 when French authorities discovered the company had been using industrial-grade silicone.