Historic lifeboat Edward Birkbeck Norfolk trip home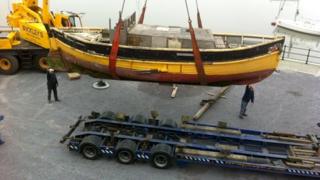 A historic lifeboat which has been lying derelict in Conwy harbour is to return home to Norfolk for restoration.
The Edward Birkbeck was built around 1896, and was the lifeboat at Winterton-on-Sea until 1925.
Detective work by Conwy's harbourmaster has led to it heading home to East Anglia, where it was the village lifeboat until 1925, making 94 rescues.
The vessel was being loaded onto a lorry to be transported overland on Thursday.
The village church in Winterton-on-Sea has a plaque in the Fisherman's Corner recording the lifeboat's many live-saving successes.
The old Norfolk family names of the original crews are still well known locally and a team of volunteers are ready to help restore the vessel.
The Edward Birkbeck is set for eventual display as part of the village's maritime heritage.
The vessel had faced being broken up for scrap after Conwy's acting harbourmaster Barry Tuson issued a notice in November 2011 that he considered it abandoned and causing an obstruction.
But after learning of its former links to Winterton-on-Sea, he contacted the parish council there to let the village know of its existence.
"No-one is sure how it came to be in Conwy. When we took a good look at it, it looked like a lifeboat of some sort," said Mr Tuson.
"It was obvious it was an old boat, but no-one new how old. So I thought we should find out more about it.
"When we searched the internet, the connection with Norfolk came up very quickly.
"I got in touch with the parish council in Winterton-on-Sea, and it all just sprung into life from there.
"It's a really happy ending.
"All too often things of historic value are lost because the right people don't know about them.
"It's nice we could send part of Winterton's heritage back home after all these years."
Beverley Kaye, chair of Winterton-on-Sea Lifeboat Restoration Group, said the village's response to the news was "extremely heartening".
She said: "We knew of the boat but we had no idea it was laying in north Wales. It's an important part of our maritime heritage and we don't want to see it lost forever.
"We're not going to put her back to sea, it would be too expensive. We just want to get her to look as she would have been.
"We have a lovely photo of her in 1910 with the crew."
Built as a Norfolk and Suffolk pulling and sailing lifeboat, the Edward Birkbeck had been converted to a motor cruiser at some point, she said.
The original vessel would have put to sea with a 35ft (10m) mast and a 10ft (3m) retractable bowsprit.