Libya detainees Gareth Montgomery-Johnson and Nick Davies-Jones may face charges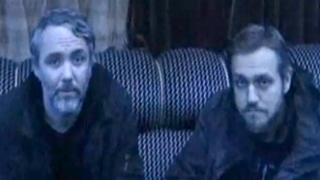 A Welsh journalist and his colleague being held in Libya are waiting to learn their fate after they were handed over to the national government.
Gareth Montgomery-Johnson, from Carmarthen, and Nicholas Davies-Jones were detained by militia last month.
They were handed over to the interior ministry in Tripoli on Wednesday, which is considering charges.
They had been working for the Iranian broadcaster Press TV, and were accused of entering the country illegally.
Mr Montgomery-Johnson and Mr Davies-Jones were taken into detention by the Misrata Brigade militia in Tripoli on 22 February.
Since then, Mr Montgomery-Johnson's family and human rights groups have lobbied for the men to be handed to the Libyan authorities.
Earlier this week they appeared in a video in which they apologised for entering Libya without authorisation.
In the video message, which Mr Davies-Jones said was recorded on 12 March, the journalists said they were being treated well. They appeared calm and in good health.
The UK embassy in the Libyan capital said it was following developments closely, and providing full consular support.
Mr Montgomery-Johnson's sister, Mel Gribble, said there was an "element of reassurance" knowing her brother and his friend were now being held by the "right authorities".
She said: "We're relieved but he's not home yet. We were in the situation where it was the great unknown."
The BBC's Middle East correspondent in Tripoli, Wyre Davies, said the men were in a much better situation, although the Libyan government has said it was looking at whether the men would face charges relating to entering the country illegally.
'Released or deported'
He said: "That's nothing new, many journalists, myself included over the months, have entered Libya without proper authorisation because there simply weren't the authorities here to give that authorisation.
"However, if you do work in the country now, you are meant to have the authority of the new national transitional council administration. It does seem they didn't have that."
He added: "I would be surprised if they were not released or deported in the next couple of days."
A former British ambassador to Libya, Sir Richard Dalton, told Radio Wales the Iranian television network the men were working for, Press TV, was a "genuine television operation".
He said: "One might worry about its editorial decisions and some of the slants it puts on the news but I think it's easy for the British government to make the case that, prima facie, these people were there for their declared purpose."
'Deportation process'
The Plaid Cymru MP for Carmarthen East and Dinefwr, Jonathan Edwards, praised Mr Montgomery-Johnson's family for keeping his plight in the headlines.
He said the Libyan national authorities would "want to be seen to be taking the accusations of the militia quite seriously".
But he added: "The key point here is that we are not talking about spying - which was far, far more serious - as we were a few weeks ago. We're talking about entering the country illegally.
"They have already admitted that. I think there will be a deportation process and I'm hopeful that Gareth will be back in Wales very soon."