Carwyn Jones says Cardiff airport owners need to run it 'properly' or sell up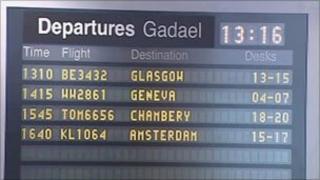 First Minister Carwyn Jones has said the owners of Cardiff airport should run it "properly" or sell it.
He said he would not want to welcome visitors to Wales through the airport because of the bad impression it gives of the country.
His comments come after it emerged that passenger numbers fell last year.
The airport, which is owned by Spanish company Abertis, said it wanted to work with the Welsh government.
Terminal and transit passengers at Cardiff fell 13% last year to a little more than 1.2m. Over the same period, passenger numbers at Bristol rose 1% to more than 5.7m.
The first minister was asked whether the Welsh government would publish an aviation strategy when he answered questions from assembly members on Tuesday.
He said: "I have to say that with the condition of the airport at the moment I would not want to bring people in through Cardiff airport because of the impression it would give of Wales.
"It's something that has been echoed to me time after time after time by passengers who use it."
He added: "I have to say the time has come now for the owners of the airport to decide to run the airport properly or sell it."
In evidence to AMs last week, the airport said it was "extremely active" in marketing to airlines in the UK, Europe, the USA and the rest of the world.
It serves about 45% of the demand for air travel from south Wales, with other passengers mainly using Heathrow and Bristol airports. Bristol serves a bigger and more affluent catchment area, it added.
'Attractive prices'
Devolving control of air passenger duty to the Welsh government - something the first minister himself supports - could be used to cut the cost of flying, the airport said.
Better access to the airport will not be enough on its own to help it grow. "It is a strong route network and attractive prices that ultimately enables an airport to develop and grow, with all the benefits that this brings," it said.
It called for "tangible support linked directly to national economic policies and priorities" to limit the risks that airlines are exposed to if they establish routes out of Cardiff.
Steve Hodgetts, the airport's planning and commercial director, said: "Cardiff airport's desire to work closely with the Welsh government remains, as communicated last week in the airport's presentation to the enterprise and business committee."
The airport announced in January that low-cost Spanish airline Vueling was expanding its flights from Cardiff to Spain.
Vueling's initial announcement last October of flights to Barcelona had come two days before low-cost airline Bmibaby halted its services from Cardiff.
Peter Phillips, chairman of Wales Air Network and a former head of marketing and communications at Cardiff Airport, said passenger numbers had fallen by close to 50% over four years.
"These days, the airport can be compared not to a capital city airport like Edinburgh or Belfast, but more like a regional airport like Newquay or Bournemouth. That's very sad," he said.
He said he agreed with the first minister, and the owners should sell the airport if they could not invest in it and turn it round.
"Cardiff itself is one of the most exciting places in Europe and it's profile is enormous. It's poised to make great use of the recovery when it comes," said Mr Phillips, who is a non-executive director at Pembrey Airport in Carmarthenshire.
'Terrific job'
"I don't see Cardiff Airport in the same league as the city it serves. The one that is in the same league is over the bridge [Bristol]."
Martin Evans, of the University of Glamorgan Business School's Wales Transport Research Centre, said the drop in passenger numbers was due to the loss of Bmibaby, and it was not easy to instantly replace them.
He said: "The local management are doing a good job and I think the commercial people at the airport are doing a good job.
"They have brought in a new Spanish airline to bring in new capacity. I think they've done a terrific job in landing that airline."
Regarding Mr Jones's comments, he said it would be better if discussions regarding the airport were made in private rather than in public.
"These discussions are looked at by a small number of people who decide where they're going to start new routes," he said.
"The message we actually need to send out is 'come to Cardiff Airport, there are routes available that would be successful, and if you come to Cardiff you will be backed by the Welsh government'."
He said ministers needed to produce a strategic policy document which set out the importance of the airport to the economy, the strategically important routes, and other routes ministers wanted to develop or introduce.
Welsh Liberal Democrat AM Eluned Parrott said that following a meeting with the airport's management team last month, she thought it was a "source of great frustration that the Welsh government has not yet detailed its vision for aviation".
"The first minister needs to stop talking our capital city's airport down and instead he should be doing all he can to encourage visitors to Cardiff airport," she said.