Valleys and west Wales poorest in the UK and further behind European average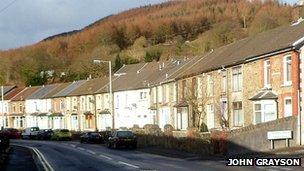 New figures suggest the economies of west Wales and the south Wales valleys has fallen further behind the European average and the poorest in the UK.
The figures have been condemned by some politicians, who say billions of European aid have failed to work.
In 1999, the funding was hailed as a once-in-a-generation chance for the poorest parts of Wales.
But performance per head has fallen - GDP at 68.4 % of the European average in 2009, compared to 79% in 2005.
Meanwhile, Wales's overall GDP remains lower than any other part of the UK at just under 80% of the EU average.
The average for Northern Ireland is 83% and Scotland is 107.5% according to figures which were published on Monday.
The overall figure for the UK is 110.7%.
A Welsh government spokesperson said: "Since 2001, GDP per head in west Wales and the valleys has broadly kept pace with the UK as a whole.
"However, GDP is particularly misleading as it does not take account of the large flows of commuters outside of the area - a point fully recognised by the report.
"In order to get a clear picture of economic performance, it is necessary to look at a wide range of indicators, including employment rates and measures of income - where west Wales and the valleys has performed well."
The Welsh Conservative spokesman on the economy, Nick Ramsey AM, said: "These are shocking figures laying bare the frailty of the Welsh economy.
"Welsh Ministers need to start working constructively with the UK government and the business community to create the conditions for economic growth, maximise Wales' appeal to potential investment and make Wales a more prosperous nation."
Plaid Cymru's economic spokesman Alun Ffred Jones AM commented: "While these figures are disappointing they are not surprising in light of the recession that hit Wales at that time.
"What these figures illustrate very clearly is how vulnerable the Welsh economy currently is at times of economic turmoil, particularly the west Wales and the Valleys region.
"Today's figures highlight just how important it is that government action is taken to address the systemic weaknesses in our economic structures."
The Liberal Democrat business spokeswoman Eluned Parrott AM said: "This is more evidence, if any were needed, that Labour have monumentally failed the people of Wales.
"Instead of learning lessons from previous rounds of European funding we appear to be sliding backwards.
"Given the severe difficulties that Greece and other European economies have experienced in recent years, we might have expected to gain some ground against our neighbours, but sadly, yet again, Wales is propping up the bottom of the tables rather than leading the way."