Remploy closures: Welsh sites' figures published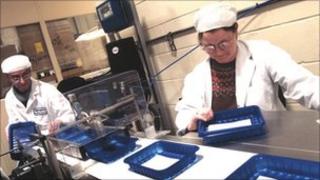 Remploy factories across Wales are projected to lose more than £6m in the current financial year, according to a report from accountants KPMG.
Last week, the UK government announced plans to close seven of the nine factories, putting 281 jobs at risk.
Minister for Disabled People Maria Miller said she was willing to work with the Welsh government to see if any of the seven sites could stay open.
But she has ruled out any further UK government subsidy.
The Welsh government says control of the factories should be devolved.
The sites, set up in 1946, offered work including furniture making and recycling electrical appliances.
But most of the state-funded factories make a loss, and last week the UK government said seven sites in Wales would close.
After a meeting with education and skills minister Leighton Andrews, Ms Miller said she was willing to listen to any ideas to keep them open.
The factories under threat are at Aberdare, Abertillery, Bridgend, Croespenmaen, Merthyr Tydfil, Swansea and Wrexham.
Factories at Porth and Neath will continue to operate.
"We will support any organisation or individual who comes forward with a credible plan to either save jobs from redundancies or keep part or whole of a Remploy factory open," she said.
"It is important that we do everything that we can to support the existing Remploy employees as we go into this difficult time."
Following their meeting, Mr Andrews said he asked Ms Miller whether she would devolve funding for Remploy factories in Wales for the next three years to the Welsh government but she refused to do so.
"That is disappointing," he said.
"I would like to hope we can change their minds, but for now we have to move forward within the very stark parameters that have been set out by the UK government."
He said work would continue with Remploy and other interested parties, to see if work could be found for employees, adding that theKPMG reportwould be scrutinised.
"It is important to remember that it is for the UK government not the Welsh government to bear the responsibility for its decision on Remploy," he said.
"This includes the costs of any associated redundancy and transitional support."
The charity Disablity Wales urged both UK and Welsh governments to look at all possible options for supporting Remploy workers, with alternative jobs found before any factories close.
"The transition from Remploy to mainstream employment will be a challenge for many because the wider infrastructure for supporting disabled people in employment is woefully inadequate," said chief executive Rhian Davies.
She added that "stigma, ignorance and poor attitudes towards disabled people" within the workplace continue to present barriers to employment.