Plaid Cymru chair Helen Mary Jones' all-women shortlist call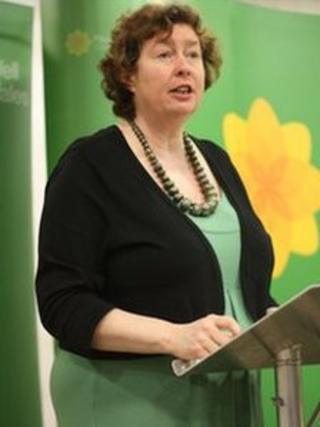 Plaid Cymru should consider all-women shortlists for parliamentary elections to ensure women are better represented, says the party's chair.
Helen Mary Jones said she would advocate the party looked "at some sort of affirmative action".
She said she was only speaking in a personal capacity and the party was yet to make a decision.
There are concerns there may be a big drop in the number of women MPs in Wales after boundary changes.
Boundary Commission proposals to cut the number of parliamentary constituencies in Wales from 40 to 30 could see over half the current MPs lose their seats, including some of the seven women.
Of the seven, six are Labour and one is Liberal Democrat. Plaid Cymru has never had a woman MP.
Ms Jones, the former Plaid Cymru deputy leader, told BBC Wales: "We have to face that across the political parties, we have positive discrimination going on in favour of men, and the way to effectively tackle that positive discrimination is affirmative action in favour of women."
"I've got to be clear here, I'm speaking for myself because the party hasn't made a decision but I will certainly be advocating that we look at some sort of affirmative action," she said.
"That affirmative action can't just be encouraging women to stand, it can't just be supporting them in practical things like child care and financial help because we know that those things by themselves don't work."
The former Llanelli assembly member, who lost out to Labour in last May's election, said that all-women shortlists were the best way to achieve better female representation.
"Those are decisions that we have got to have and, for our party of course, it isn't just about the Westminster seats but it's also about what we do about the assembly," she said.
"We reached the point where we had 50-50 women and men - we've slipped back now - and one of the things we've got to do is not just put those mechanisms in place but also use them to change how people think about what makes a good politician."
Political consultant and Labour Party member Cathy Owens said it could be argued that there were only two women MPs in Wales in safe seats on current voting patterns, which was "absolutely unacceptable".
'Severe challenges'
"It just so happens that the way that the chips have fallen on the current map that quite a few of the women are under threat - quite severe threat," she said.
"At least two of them, their seat will disappear three ways so they really won't have much of a chance to stay.
"We've got another couple of seats where the women are quite likely to face severe challenges from incumbent men in next door seats, then we're potentially losing Jenny Willott, the Lib Dem, for political reasons because her seat splits in half."
All-women shortlists are currently only used by the Labour Party but both Conservative leader David Cameron and Liberal Democrat leader Nick Clegg have said they would consider them.