Sewta says south Wales rail electrification will boost jobs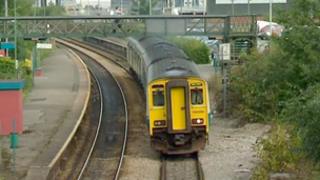 A transport group representing 10 south Wales councils says electrification of the region's rail network would act as a catalyst for economic development.
It is calling on Welsh Secretary Cheryl Gillan to push the case with the UK government which has the final say.
Last month, Welsh Transport Minister Carl Sargeant said full electrification of both the Valleys and Great Western Line down to Swansea was "essential".
Ms Gillan said she fully supported the electrification of the Valleys network.
The call comes a year after a £1bn electrification of the main rail line between London and Cardiff was given the go ahead.
The South East Wales Transport Alliance (Sewta), which co-ordinates transport strategy on behalf of 10 councils in south east Wales, has written to Ms Gillan seeking support for the Welsh government's proposals which have been submitted to the UK transport secretary.
'Vital'
They include the electrification of the Valley Lines network around Cardiff, including the lines to Ebbw Vale, Maesteg, and through the Vale of Glamorgan, as well as the lines to the north of Cardiff, and the main line to Swansea.
In a letter, Sewta chair Councillor Andrew Morgan said rail electrification has the potential to "act as a catalyst for wider economic regeneration in the region", by increasing the travel to work area.
"It would provide for a more connected Cardiff city region of some 1.4 million people, and would encourage modal shift with significant reductions in carbon dioxide emissions."
Rail infrastructure funding is a non-devolved matter handled by the Department for Transport.
Mr Sargeant said recently: "I will continue to push the UK government for full electrification in Wales which is vital for our economic competitiveness."
Sewta's partners include Arriva Trains Wales, First Great Western, and Network Rail.
Ms Gillan told BBC Wales: "Improved rail connectivity is a vital component for delivering a successful Welsh economy, and a strong business case for electrification of the Valley Lines is something I passionately want to see.
Private sector
"We are working hard with the Department for Transport and the Welsh government to create a robust business case for this part of the electrification of our rail network, and I have been making strong representations over a long period on the need to deliver modern and efficient transport links.
"Such investment by the UK government would not only modernise our rail network, it also has the potential to unlock opportunities for some of our poorest communities and attract investment to grow the private sector."
She said the UK government was already delivering electrification of the line from London to Cardiff while the case to extend that to Swansea was still under review.
"I want to help improve the landscape and conditions for Welsh businesses and organisations in any way I can, and I will continue to work closely with my cabinet colleagues and the Welsh government to progress these proposals."