Ancient oaks need more protection, say campaigners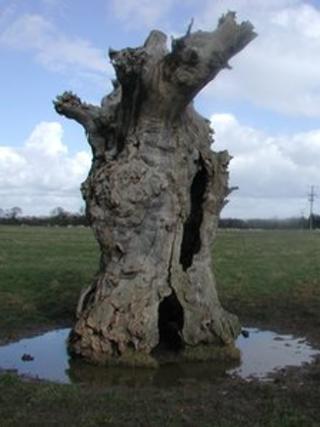 Calls to do more to protect oak trees which could have survived for hundreds of years have been made.
The Woodland Trust and the Ancient Tree Forum say trees growing in Wrexham and Chirk could be among some of the oldest in Wales.
They are calling for the planned merger of three environmental bodies in Wales to take responsibility for tree preservation powers.
The Welsh government said the matter was out for consultation.
Tree campaigners attending a conference hosted at Wrexham by Ancient Tree Forum over the weekend are to tour some of the ancient trees identified in the area.
Saturday's tour will take in the Pontfadog Oak, the largest-girthed sessile oak in Wales.
It is thought to have already been a mature tree when Owain Gwynedd Ap Gruffudd rallied his troops there, to face Henry II in the mid 12th Century.
The group will also visit veteran oaks on Wrexham Industrial Estate, which survived the area's use as a wartime munitions factory, despite having their trunks filled with concrete.
Woodland Trust spokesman Rory Francis said: "I believe that these trees were filled with concrete to prevent them being a fire hazard during wartime incendiary bombing.
"What many people don't appreciate is that it's only the outer-most wood, bark, branches and leaves which are actually alive on a tree, the rest of the wood is only there for support.
"Hollow trees can live perfectly happily, and their rotting insides actually provide a vital habitat for all sorts of woodland creatures."
The organisations has asked volunteers to visit the sites of potentially ancient trees, and assess their likely age.
Mr Francis said the campaigners wanted the new environment body proposed by the Welsh government to take on responsibility for tree preservation orders to ensure they are issued consistently and with sufficient powers of enforcement.
Environment Minster John Griffiths has proposed merging Environment Agency Wales, the Countryside Council for Wales and Forestry Council Wales in April 2013.
'Rare and ancient'
Mr Francis added: "I'd also like to see help and advice for land-owners who have particularly rare and ancient trees on their property.
"Often people are scared of contacting their local authority because they feel, wrongly in my experience, that having a protected tree might place extra financial burdens, or might make their property harder to sell."
A Welsh Government spokesperson said: "This is a matter that is out to consultation.
"If the minister decides to proceed with the single body then the existing powers of the bodies will be transferred into the new body."