Cardiff anti-chewing gum drive aims for clean streets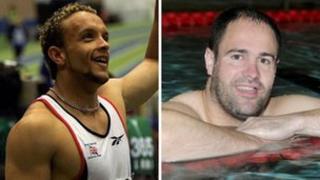 Two sports stars are fronting a campaign to reduce the amount of chewing gum on Cardiff's streets.
The drive is aimed at trying to make sure the Welsh capital is litter-free when London 2012 starts in July.
Olympic sprinter Jamie Baulch and Paralympic swimmer David Roberts helped to hand out free gum wraps in Cardiff city centre on Friday.
It costs councils an average of 10p to clean each piece of gum from pavements in Wales.
The campaign launch is organised by Cardiff council, The Chewing Gum Action Group (GGAG) and Tidy Towns.
Natalie Forrester, of the GGAG, said it was part of a wider drive to get streets across the UK looking their best for London 2012 and the Diamond Jubilee.
She said it was difficult to put a figure on how much it cost each council to clean up gum because it was part of their wider litter-cleaning duties.
Pavements
But she said it was a problem in towns and cities across Wales.
Ms Forrester said following campaigns in other areas they had seen up to 90% less gum dropped on streets.
Three Welsh councils - Cardiff, Carmarthenshire and Newport - are members of GGAG - which is funded by chewing gum manufacturers.
But other councils in Wales have run their own campaigns to tackle the problem.
Swansea council and businesses in the city centre launched a £30,000 project to rid the city of chewing gum and encourage people to dispose of it more responsibly in September.
A campaign was launched in Newport, which estimates it spends £30,000 a year clearing gum, at the same time.
In Wrexham, council staff have been demonstrating to pupils how hard it is to remove gum from pavements in an effort to encourage them not to litter.
Cardiff's executive member for environment, Margaret Jones, said: "This campaign aims to change attitudes and ensure people understand the importance of binning gum responsibly rather than throwing it away which is no different to dropping other litter."