The Story of Wales: Life in Merthyr Tydfil's 19th Century 'Little Hell'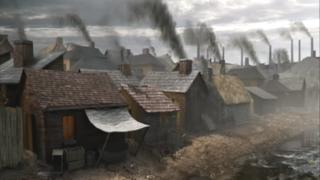 How many people do you think could live in a one-room house measuring just 4ft 6in by 7ft (1.4m by 2.1m)?
The answer, in Merthyr Tydfil in south Wales in the 1840s, was a family of anything up to four or five people.
According to a report on the town published in 1841, some 1,500 people lived in stone huts of this size, often built on top of iron slag heaps.
There were no toilets; the streets were open sewers; people were infested with lice and in such overcrowded conditions infections and diseases such as typhus, dysentery and cholera spread at terrifying speed.
Small wonder, then, that the slums which grew rapidly around the ironworks that in the first decade of the 19th Century powered Britain's Napoleonic war effort came to be known as Little Hell.
Created by the proximity of coal supplies and a river system, the iron industry sprung up in Merthyr in the mid-18th Century and attracted workers from rural Wales, Ireland, England and Scotland.
What had been a village of just 40 homes in 1760 grew within 40 years into the iron capital of the world, with a population of almost 8,000 people.
With such a rapid influx of workers slum conditions were inevitable, explains Dr Chris Evans, who appears in the fourth part of BBC Wales' history series The Story of Wales.
"The new urban settlements that arose very rapidly had very little urban infrastructure," says Dr Evans, a history professor at the University of Glamorgan.
'Cheek by jowl'
"In those days ironmasters provided housing, but it was not very common in south Wales, and the pace of expansion was so fast that housing was provided by private speculators.
"It was designed to turn a fast buck and was not built to the highest standards."
Living space in the town was by modern day standards extremely cramped, says Dr Evans.
"It was common for people to share living space. The idea of having your own individual bedroom would have been odd. It was taken for granted that you would sleep alongside other people.
"Living cheek by jowl was the norm, but it was obviously exaggerated in Merthyr."
Such overcrowding left the workers and their families dangerously exposed, he says.
"Life expectancy was extremely low. That reflects the high mortality rate among newborn babies and children under two.
'Volatile, dangerous'
"If you could survive being a baby or a toddler you could survive into your forties or fifties. But being a baby in Merthyr Tydfil was not a good idea.
"Epidemics spread very, very quickly. There was not inoculation against child killers such as small pox and measles."
And yet for decades people flocked to the town in hope of a better life.
"A town like Merthyr Tydfil was a byword for squalor, dirt and poor housing, but during the good times you could earn a good living there," says Dr Evans. "It was a town of great opportunity.
"But these were scary places; unstable, volatile, dangerous places. Also, in political terms, they were a crucible of unrest."
The Story of Wales traces the history of the nation from the Ice Age to the information age.
Episode four of the six-part series focuses on the Industrial Revolution which turned Wales into a global player.
It traces how the unimaginable wealth and desperate poverty that often existed side-by-side fuelled massive social turmoil, riots and uprisings - and led to the first cries for democracy and workers' rights.
The Story of Wales: Furnace of Changecan be seen on BBC One Wales on Monday 12 March at 21:00 GMT. The series is available on iPlayer.