Cardiff vicar backs Welsh police metal theft campaign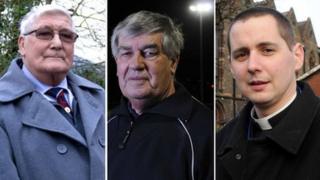 A vicar, a rugby club chairman and a member of the Royal British Legion, who have all been victims of metal theft, are fronting a police campaign in Wales.
The four Welsh forces are aiming to raise awareness of the crime.
By using real life examples of victims, they hope to encourage more people to report suspicious incidents.
Father Ben Andrews, vicar of St Paul's Church in Grangetown, Cardiff, will appear on posters and a video.
Humphrey Evans, of Aberdare RFC, and Keith Mile, of the Newbridge Royal British Legion, will also feature.
Assistant Chief Constable Matt Jukes, of the Association of Chief Police Officers in Wales, said the price of scrap metal had risen sharply in recent years.
He said metal theft was now estimated to cost the UK economy around £770m a year.
This year, three hospitals in Wales - Neath Port Talbot, Singleton and Morriston - were hit after thieves took computer cables, while in December, 80 operations were postponed at Llandough Hospital in the Vale of Glamorgan when it was targeted.
Two weeks ago hundreds of children at Ysgol Gyfun Llanhari in Rhondda Cynon Taf were sent home when copper piping from the school's heating system was taken.
Mr Jukes said: "Metal theft is about more than metal.
"Even the smallest amount of stolen cables or wiring can cause a great deal of inconvenience and distress to local people.
Expensive repairs
"These types of crimes are committed mostly in full view of the public, however, most of us presume that if we see people in work-type clothing or yellow jackets working on power cables or on roofs, then they must have someone's permission.
"But I encourage everyone to question what they see."
A copper gas pipe was stolen from St Paul's Church in December 2010.
Father Ben Andrews said it meant he had to close the building until it was replaced.
"I was told thieves would have only made around £30 for the scrap but it was a real nuisance," he said.
"I'm hoping that taking part in this campaign will encourage people in the community to pick up the phone and call the police if they do see anything unusual."
Mr Evans said the rugby club was targeted by metal thieves who stole copper wiring from the floodlights at the Michael Sobell Leisure Centre pitch.
"Thankfully the season wasn't ruined as club money paid for the repairs, but it was expensive," he added.
Stricter controls
Mr Miles said people were appalled when thieves stole the original bronze war memorial in Newbridge in December 2010.
It has since been replaced by a marble plaque.
He added: "We've got people fighting for us in foreign countries then people at home committing acts like this."
Mr Jukes said police were talking to the government about stricter controls to make life more difficult for thieves and unscrupulous scrap metal dealers.
Welsh Local Government Minister Carl Sargeant said he was working with organisations to tackle the problem.
"We also need the support of the public to report anything suspicious to the police," he added.
Anyone who suspects a metal theft incident is ongoing should phone 999 or, in a non-emergency, 101.
They can also call Crimestoppers Wales anonymously on 0800 555111.