Debt advice demand in Wales set to surge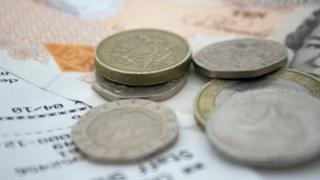 A debt advice charity says it expects to see a big rise in the number of families in Wales seeking help.
The Money Advice Trust said demand for debt help could increase by 23% by 2014.
The body said concerns about public sector jobs across Wales would fuel the requests for aid.
The trust said research it commissioned showed that 66,000 people in Wales were given assistance by debt advice agencies in 2011.
The prediction follows a report from the financial analysts PricewaterhouseCoopers, which suggested that as many as 50,000 public sector jobs could be at risk in Wales in the next few years.
Joanna Elson, chief executive of the Money Advice Trust, said: "When high levels of unemployment arrive, debt problems often follow.
"At times like this it is so important that people are aware of, and can access, the free advice that can make the crucial difference between allowing a difficult situation to spiral into unmanageable debt and regaining control of your finances."
The trust commissioned experts at the University of Nottingham to analyse debt advice patterns in Wales.
Debt firms
Malcom Jackson, the business development officer of the North Wales Credit Union, said there was more than a ring of truth to the research findings.
"In the North Wales Credit Union we are seeing more and more people, and not so much from lower income backgrounds which maybe historically was the case," he said.
"We are seeing lots more of this happening."
The latest research comes as MPs publish their own report on the debt management industry, calling for more regulation.
Business, Innovation and Skills Committee chairman, Adrian Bailey MP, said: "During these difficult economic times, increasing numbers of people up and down the country - not least some of the most vulnerable members of our society - are relying on the provision of consumer debt management services and payday loans to make ends meet.
"And yet this industry remains opaque and poorly regulated."
Mr Jackson, from the North Wales Credit Union, said the advice was clear: "There are lots of different free - and I emphasise free - debt advice companies that can help."