Geoffrey Harris's unusual leap day resolution on a bus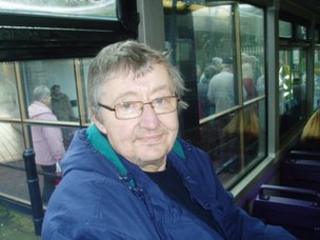 For some, the extra day in February was an opportunity to seize the day and propose.
But for Geoffrey Harris, the 29th was a chance to get on top of his crippling depression - with a simple bus journey to nearby Swansea.
Eight years ago, he was hit by depression and panic attacks. It came "right out of the blue", he said, and lead to him having to retire early.
"I was diagnosed with high blood pressure. My GP sent me home. The next day was sunny so the wife said 'I'll take you for a drive'.
"I couldn't open the door. I couldn't literally open my own front door. It took nearly two months to open the front door. It took another month to walk down to the corner shop, which I couldn't go in because there were people there."
Eventually Mr Harris could get as far as Swansea, a short bus ride from his home. He would spend half an hour there before catching the bus home again.
But, one day four years ago, he suffered what he describes as a "belter of a panic attack". The bus trips stopped.
But he was inspired to try again when BBC Radio 4's PM programme asked its listeners what unusual things they planned to do on 29 February, which only rolls around every four years. To help his resolve, he contacted the programme and went public with his plan.
"I thought putting it out there would give me the real kick I needed... it was about not letting people I don't know down."
His plight struck a chord, and many listeners wrote in to voice their support. Mr Harris said these words of encouragement gave him a lift.
But he needed more than the encouragement of strangers. "On Tuesday night, my chances of doing it were getting slim because I was getting those old feelings back."
So his son took him by car on the bus route. "What calmed me down was knowing where things were."
When Wednesday came, he felt ready. "I went through the normal routine. I went down to the bus stop. I got on. I picked my favourite seat. I had a song to sing to myself and breathing exercises. I got off. There was the cafe. I went into the small queue and said 'right, I'll have a cake and a cup of coffee'."
After 20 minutes in the cafe, he was back outside in the sunshine.
"The bus pulled in and amongst the people coming off was my darling wife and my cousin. They mouthed 'how are you?' and I punched my hand up in the air. So I was back on the bus, and I felt great."
Although 29 February was a day when Mr Harris made a great leap, he does have a way to go before he feels back to his old self.
"I really enjoyed the drive home because I could see views I hadn't seen in donkeys years. I thought 'I'll get off in town and walk up'.
"That was a mistake. You'd swear I had deep sea diver's boots on.
"The balloon bursts and the adrenalin went. And I'm afraid to say that's where I am at the moment."