'Bling' dummies choking fear, warns Flintshire trading standards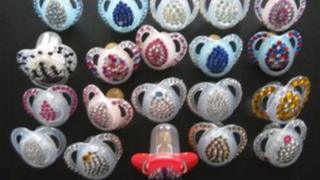 A craze for customising babies' dummies with coloured gems poses a serious risk of choking for babies and youngsters, say Flintshire Trading Standards.
So-called "bling" dummies have plastic beads and magnets added to them.
But the glue used to add pieces can soften when the dummy is cleaned in hot water and the toy gems can partly block the air way.
Anyone caught selling the dummies or bottles could face a fine of up to £20,000, trading standards have warned.
A spokesperson for the county's trading standards compliance office said parents should stop using such products immediately.
In a statement, the service said: "Products of genuine brands are bought and then adorned in this apparent cottage industry.
'Educate people'
"These customised dummies, and other childcare products, such as dummy clips, baby bottle and feeding bowls, should not be confused with novelty childcare items manufactured by reputable companies which do meet the necessary safety standards."
A spokesperson added: "One seller we know of is a small-scale producer. They tent to crafts people who are selling them on social media and online auction sites.
"Our view is that if we can warn the public and educate the people who are making the products, then that would be our preferred route to achieve compliance.
"We would consider robust action if the problem persisted."