London 2012: Colwyn Bay chosen to host 'flame celebration'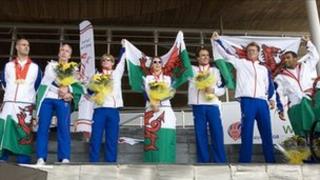 A north Wales community has been chosen to host a "flame celebration" as part of the London 2012 Paralympic Torch Relay.
Colwyn Bay joins more than 30 locations across the UK selected by the London Organising Committee of the Olympic and Paralympic Games to hold the events.
The announcement marks six months until the Paralympics start on 29 August.
The Paralympic flame has been unveiled by former Paralympic gold medallist Baroness Tanni Grey-Thompson.
Wales will light its own flame as part of the torch relay celebrations ahead of the Paralympics.
Flames will be lit in Cardiff, London, Belfast and Edinburgh, combined at the home of the Paralympic movement atStoke Mandevillein Buckinghamshire on Tuesday, 28 August, and then relayed on to the opening ceremony.
Colwyn Bay's involvement will be as part of a scheme aimed at involving smaller communities.
The 'flame celebration' will be held at Eirias Park, Colwyn Bay, on 27 August.
More than 4,200 athletes with a variety of disabilities, from 150 nations, will take part in the London 2012 Paralympic Games, which will continue until 9 September.