Dancing With The Stars: Katherine Jenkins to compete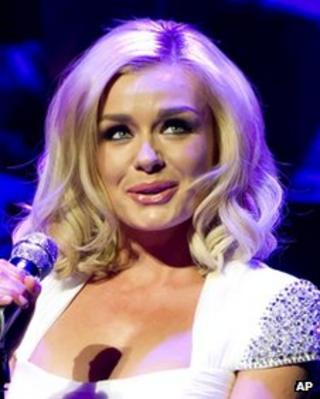 Katherine Jenkins is heading to the US to compete in its version of BBC's Strictly Come Dancing.
The mezzo soprano from Neath will take part in Dancing With The Stars alongside the likes of former Wimbledon champion Martina Navratilova and soul singer Gladys Knight.
She has previously appeared on the ABC network show to sing.
Strictly's Len Goodman is a judge and previous British celebrities who have taken part include Heather Mills.
A spokesman for Jenkins, 31, said: "She's very excited to be taking part."
The stars will dance their first routines on 19 and 26 March, with the elimination on 27 March.
Dr Simon Warner, a lecturer in popular music studies at the University of Leeds, said Jenkins might be trying to tap into the Adele factor.
Adele's album 21 was the biggest-selling in the US last year and was followed by success at the Grammy and Brit awards.
"It (Dancing With The Stars) sounds like perfect platform for a young woman with talent, who is little-known in the United States, to reach the multi-millions who watch Dancing With The Stars," said Dr Warner.
But he said the US market was hard to break, and being a high profile performer in the UK with a huge amount of money behind you was no guarantee of success.
"The US market accounts for a third of all music sales in the world, double that of Japan in second. The UK is fourth, behind Germany," added Dr Warner.
"Charlotte Church has been a name in the US for 10 to 15 years, and perhaps (Katherine Jenkins) aims to emulate her younger rival.
Previous champions
"She might be trying tap into the Adele factor and maybe thinks she can emulate Adele's success by using the Dancing With The Stars route."
Previous champions of the show have included Dirty Dancing actress Jennifer Grey, who became a guest judge on Strictly last year, and former Pussycat Dolls singer Nicole Scherzinger.
It was announced earlier this month that Scherzinger and Welshman Steve Jones were both stepping down as judges on US X Factor.
Jones, who hosted the show's debut season, tweeted at the time it was a "shame" he was leaving but added: "I can't complain as I've had a great time."
Jenkins meanwhile announced she was single again in December after splitting from her TV presenter fiance, Gethin Jones.
The pair had announced a year ago that they were getting married after Cardiff-born Jones proposed in Mexico.
They met on Strictly Come Dancing in 2007.