Llanwern waste plant plan threatens habitats, says Gwent Wildlife Trust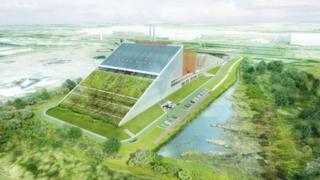 Nationally important habitats would be threatened if a planned waste incinerator is built in Newport, an environmental group claims.
Gwent Wildlife Trust says the risk to wildlife at the Gwent Levels and Severn Estuary would be too high.
The company behind the scheme said a comprehensive environmental impact assessment had been carried out.
The plant is part of plans by five south Wales councils to find a way of dealing with non-recyclable waste.
Four proposals were initially shortlisted by the scheme, known as Prosiect Gwyrdd (green project), but only Llanwern and a rival proposal at Splott in Cardiff remain.
A preferred option is expected to be chosen in the autumn.
Gwent Wildlife Trust has written to Newport council to formally oppose the Llanwern plan, expressing particular concern about potentially harmful effects on the Gwent Levels, a site of special scientific interest for its aquatic plants and invertebrates.
"A range of species that are sensitive to air pollution may be directly impacted by this development," Gabrielle Horup, the trust's conservation officer, wrote.
"We are particularly concerned about the impact of pollution events on species using the ditch and reen system on the Gwent Levels.
"This includes a large number of nationally rare and notable invertebrates that have been recorded in the Whitson area, and plant species... recorded in Nash and Goldcliff."
Ms Horup told BBC Wales she would like to see the council and other local authorities involved in Prosiect Gwyrdd explore alternatives to burning waste.
Industrial use
She said there were several surrounding areas protected by law, including the Severn Estuary for its bird life and wetlands.
Veolia Environmental Services, which is behind the Llanwern plan, said the proposed site had a history of industrial use.
"As part of our planning submission to Newport City Council, a comprehensive environmental impact assessment has been carried out in relation to the ecological context of these proposals, and all responses to the planning application will be considered as part of the current consultation process," said a spokesperson.
"We believe our facility based within the Llanwern steelworks complex, which has a history of industrial use, is the most appropriate site and location for an energy recovery facility to serve the five client authorities.
"It is ideally placed to provide heat to the neighbouring steelworks, as well as 20MW electricity, and is well connected to the existing road network.
"Very few waste processing facilities in the UK generate both electricity and provide heat but this highly efficient approach will further reduce the carbon footprint of the steelworks and provide secure, low cost and partly renewable energy."
The company said it was committed to employing local staff where possible, and it would provide around 350 jobs during construction and 45 on a permanent basis.
Prosiect Gwyrdd said there were "two strong and credible bidders competing against each other to deliver a sustainable solution to waste which cannot be viably recycled or composted".
"The five partner authorities' priority is to recycle and compost as much waste possible in line with the Welsh government's progressive waste targets but the infrastructure has to be put in place to treat the remaining waste, diverting waste from landfill," said a spokesperson.
Regional alliances
"The project is aiming for zero waste to landfill and the preferred bidder is expected to be announced in autumn 2012."
Newport council said: "Any submissions will be considered by the planning committee in due course along with the comments of the expert statutory consultees such as the Environment Agency and environmental health."
The Welsh government has set waste targets for local authorities.
By 2025, a minimum of 70% must be recycled and composted, while only 5% can be sent to landfill.
To deal with the 30% that councils are not able to recycle and will not be able to put in landfill, local authorities are forming regional alliances for waste projects.
Caerphilly, Cardiff, Monmouthshire, Newport and Vale of Glamorgan have teamed up in south Wales.