Tourism campaign spells Brecon as 'Breacon' on US poster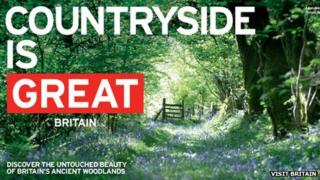 A £25m tourism promotion aimed at enticing visitors to the UK has apologised for a spelling mistake on one of its posters.
A poster on a New York subway train for the latest campaign of GREAT, Britain's biggest ever tourism drive, misspelt Welsh beauty spot, the Brecon Beacons.
The "Breacon" mistake was posted on the internet by a member of the public.
A Department of Culture Media and Sport spokesman said: "It was only one poster but it was a conspicuous one."
The advertising campaign in 14 cities around the world aims to capitalise on the publicity surrounding the Olympics but show that there is more to Britain than the games.
Images of scenic landscapes including Stonehenge and Glenfinnan in the Scottish Highlands have been draped over buses in Berlin and put onto the Paris Metro.
It has also used shots of Snowdonia and has Doctor Who actor Matt Smith inviting the world to Wales as part of its celebrity promotion.
But the one image destined for New York's subway suffered a mistake in its transatlantic translation.
The poster showing a place called Bluebell Walk, near Llandovery, Carmarthenshire, wrongly placed it in the "Breacon" Beacons.
A spokesman for Visit Britain said: "The mistake was picked up before the launch of the campaign in London and was subsequently amended. Unfortunately the incorrect image was still used on the first production run."
The GREAT campaign is funded by the UK's Department of Culture Media and Sport (DCMS).
'Foolish'
A spokesman said the mistake was a proof reading error by an advertising agency in America but the department "held its hands up to it".
He said: "It was a mistake. It has been corrected."
John Harries, patron of the Three Horseshoes Inn at Brecon, said: "Your name means a lot to people. If you can't be bothered to get it right, that isn't good.
"American people seem to love it over here. They are enchanted by this area, in my experience.
"A lot of American streets are very large and elaborate - they are amazed when they see our narrow rural lanes and the cottages on them.
"It would not put them off but it would make them a bit indecisive as to where they were going. We do get mixed up with Brechin in Scotland."
Adrian Greason-Walker, executive director of Wales Tourism Alliance, added: "This mistake has been played down as merely "regrettable", but to get the name wrong of the place being advertised is a dreadful error, especially given the size of the budget being thrown at the campaign by Visit Britain.
"Let's hope that it does not have a lasting impact on the reputation of Britain or the success of the campaign in New York."
Taxpayers' Alliance spokesman Lee Canning said: "Something like this was obviously proof read.
"Whether it is one poster or 100 posters, if we are going about it the wrong way and making ourselves look foolish then that is certainly not going to attract international visitors.
"There are enough people in enough positions being paid. If they can't do it right, they should be held to account.
"If you are going to bring in a contract agency, make sure the agency has the tools to do the job."