The Story of Wales: Huw Edwards homage to TV historians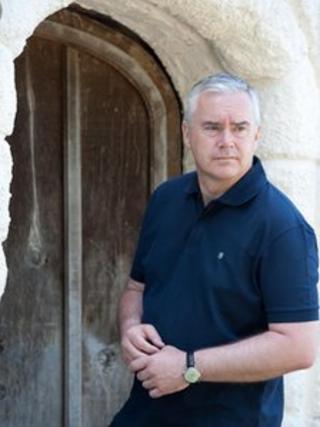 Presenting BBC Wales' new landmark history series The Story Of Wales was "a daunting challenge" says Huw Edwards.
After fronting the BBC's news bulletins for more than a decade, during which time he has anchored a succession of high profile live broadcasts of state occasions, you might imagine that nothing much would worry the Bridgend-born presenter.
But at the back of his mind, says Edwards, was the prospect of following in the footsteps of some of Welsh television's greatest broadcasters.
"When BBC Wales suggested my name for this series, it really was a dream come true," says Edwards, who grew up in Llanelli and began his career at the Corporation as a news trainee in 1984.
"No self-respecting Welsh broadcaster would turn down such an offer."
But, he adds, "Great men have laboured in this field, and I enter it with respect."
The last major television history of Wales was The Dragon Has Two Tongues, produced by HTV Wales in the mid-1980s.
Co-presented by historian Gwyn Alf Williams and veteran broadcaster Wynford Vaughan-Thomas, the series was, says Edwards, one of the best history series ever seen on British television.
"It mesmerised viewers," he says. "Each presenter vigorously promoted his own story of Wales, engaging in endless argument about people, places and events.
'Debate'
"They conveyed the volatility of that period: there was a palpable uncertainty about the very notion of Wales.
"The country seemed to be in flux, the political landscape dominated by the year-long miners' strike.
"Gwyn Alf and Wynford taught viewers that the best history provokes debate and encourages reflection."
Twenty-six years later, The Story Of Wales has been made in a very different climate, says Edwards.
"Wales is in many ways a new country, clearly energised and boasting its own government and law-making National Assembly.
"For the first time in the history of our nation, laws are being made by elected Welsh representatives in Wales for Wales.
"So it was high time for us to re-tell the story of Wales for the 21st Century."
Lively and accessible
The six-part series which starts on Monday evening traces the history of the nation from the Ice Age to the Information Age.
With the aid of dramatic reconstructions and CGI, the story will be told in a lively and accessible fashion, promises Edwards.
Filming, including 38 dramatisations of scenes from Welsh history, took place across four months last summer.
To produce six hours of programming, the production team travelled 6,000 miles; filmed in 130 locations, and took more than 80 hours of footage.
"Some locations were exceptionally thrilling," says Edwards.
"The site of Crawshay's immense iron furnaces in Merthyr is still impressive in scale and form.
"The sadness and tranquillity of Llyn Celyn in the early morning light was a very special experience."
Monday's first episode begins with a reconstruction of the earliest known human burial in Western Europe - the "Red Lady" of Paviland, almost 30,000 years ago.
Future episodes will explain how Hywel Dda united Wales under one law, look at the Welsh at the heart of the Tudor court and continue through the Industrial Revolution and right up to present day devolution.
The Story Of Wales: The Makings of Wales can be seen on Monday, 27 February on BBC One Wales at 21:00 GMT