Lack of public transport forces drivers into debt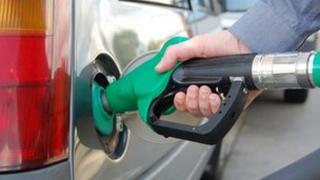 Drivers are being forced to go into debt to run their cars, according to a group of charities.
They claim rising costs means over one million people in Wales would need to spend at least 10% of their income to have a car.
Led by Sustrans Cymru, they want councils and UK and Welsh governments to spend more on public transport.
The Welsh government said it was committed to improving mobility and was targeting resources where most needed.
The report called Access Denied says a lack of alternatives to having a car is forcing people to choose between getting into debt and being cut off from jobs, healthcare, shops and schools.
Backed by Age Cymru, Citizens Advice Cymru, Save the Children and Sustrans Cymru it calls on politicians to tackle what they say is the growing problem "transport poverty."
It claims transport policy has been focused on the needs of motorists but a quarter of households have no car at all.
The charities say it can be a particular problem in rural areas where jobs and services are more widely dispersed and in areas of high unemployment where people are forced to travel outside of their communities to find work.
They say there are eight council areas where more than half the population live in "transport poverty" - in Blaenau Gwent, Merthyr Tydfil, Caerphilly, Neath Port Talbot, Rhondda Cynon Taf, Torfaen, Bridgend and Newport.
Rather than a cut in fuel tax, the report calls for more investment in alternatives such as public transport, car clubs and routes for walking and cycling.
Lee Waters of Sustrans Cymru said: "It is shameful that not having a car in many parts of Wales severely limits your chances in life.
"In assuming that everyone has easy access to a car, we have forced thousands into ownership that they simply can't afford.
"If Wales is serious about tackling poverty, we must make sure that people can access the jobs and services they need, regardless of where they live.
"This means building a transport system that is available to all, not just those who can afford to drive."
Last month the Welsh government said it was having to cut £3m from its local transport subsidy due to a squeeze on its budget.
The report calls for the decision to be reversed and other recommendations include calling on the UK government to ring-fence fuel duty for investment in alternative transport.
The Welsh government said its national transport plan had brought forward investment to make the transport system work better to help tackle poverty and assist economic growth.
A spokesperson added: "We are realistic about what we can achieve and are putting resources where they will make the most difference to people's lives.
"Our focus is on improving mobility and connectivity so that people can access the things they need, such as jobs, health care, education, child care, friends and family.
"Through our ongoing work with interest groups we can continue to address the issues of transport poverty through concessionary fares schemes and more sustainable transport options.
"Our Highways and Transport Bill will also make it easier and safer for people to make shorter journeys by walking and cycling."
HM Treasury said the UK government's position on fuel duty was set out at the Autumn Statement.
"It already includes over £4bn worth of help for motorists across two years, including a 6p cut in fuel duty last year," said a spokesman.