University of Wales degrees validation concern at Birmingham Graduate School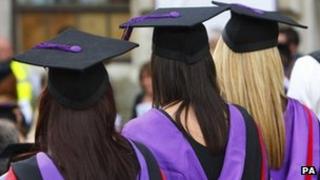 BBC Wales has discovered more evidence of problems in the relationship between the University of Wales and other colleges where it validates degrees.
Students at Birmingham Graduate School fear some may not receive their MBA degrees due to a financial dispute.
The University of Wales says details about validation agreements with colleges are confidential.
The school says students will receive their certificates from University of Wales in due course.
A number of overseas students are concerned they may never get their final certificates.
The University of Wales said last October it would stop validating courses at other institutions, but honour existing commitments.
It offers several Masters of Business Administration (MBA) post-graduate courses at Birmingham Graduate School, which is in Birmingham city centre.
One student from Bangladesh was expecting his degree certificate in January.
'Financial problems'
But BBC Wales has seen documentary evidence from the University of Wales' Validation Unit, that it would not be issuing any certificates or confirmation letters until Birmingham Graduate School has cleared its debts.
The student, who wishes to remain anonymous, paid over £3,000 in course fees and completed several modules and a dissertation.
"Why should I suffer? I paid my money, I satisfied all the requirements, everything.
"I performed my duty, so the college should perform their duty. The university should perform their duty.
"Their financial problems - I am not concerned about this. I performed my duty, I want to be provided with my desired degree."
He told BBC Wales that he applied to Birmingham Graduate School (BGS) because he regarded the University of Wales MBA degree as one of the best in the world.
But he is concerned that his hopes of getting a good job in his home country may be under threat if he does not receive his certificate.
"I'm not from that rich family that they can give me again money, £10,000, £20,000, that I can continue again.
'Duty of care'
"They give me all the money I need to continue my MBA degree. I spend all this money here, so I don't know what I'll do. I have no other option."
The BGS website has a notice advising students not to contact the University of Wales directly about exam or dissertation results.
It says all enquiries must be made to the school itself and that a failure to follow procedure could lead to disciplinary action.
A statement on the website says the school "will continue our services to support the students in this matter and will try our utmost to liaise with the University of Wales so that the students can feel re-assured that Birmingham Graduate School will bring a positive result to the situation".
A statement from the University of Wales said it could not comment on the circumstances of individual students and that "details of all Validation Agreements, between the University and its partner colleges, including the payment of fees as governed by the contract between the University and its partners, are both confidential and commercially sensitive".
It says it has "a duty of care to provide results and certificates to students who have successfully completed their programme of study and who are in good standing".
"The issuing of certificates is also governed by the contract between the university and the centre."
In 2011, BBC Wales' Week in Week Out programme exposed a scam in which overseas students were being offered help to cheat their way to University of Wales degrees, in order to qualify for UK graduate work visas.
In a separate investigation in 2010, BBC Wales revealed Fazley Yaakob, a pop star with two bogus degrees, was running a college offering University of Wales courses in Malaysia.
It led to a damning report from the higher education watchdog, the QAA, which found serious shortcomings in the way the university collaborates with colleges around the world.
Last October, the vice chancellor of the University of Wales, Professor Medwin Hughes, said the university would cease to be an accrediting body for other universities in Wales and that it would be closing validated programmes at centres in the UK and overseas.
He said in future it would award degrees only for courses it designs and fully controls.
From September this year, the University of Wales will be rebranded in a merger between Trinity St David and Swansea Metropolitan University.
Future students will receive Trinity St David college degrees.