Peacocks: MP Jenny Willott welcomes retention of HQ in Wales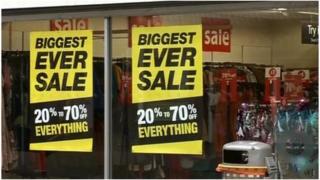 The new owner of fashion retailer Peacocks says it is important the business remains based in Wales.
Jenny Willott, the Liberal Democrat MP for Cardiff Central, welcomed the retention of Peacocks' headquarters in Cardiff Bay.
She was "reassured" by owners Edinburgh Woollen Mill's decision but was concerned at the 3,000 job losses.
It bought the firm out of administration on Wednesday but lost about a third of its UK staff.
Ms Willott said it was "very important" Peacocks' HQ remained in Wales.
"In some ways I'm really reassured that it's a company like the Edinburgh Woollen Mill, which understands the importance of the national identity," she said.
"They're based up in Scotland and, for them, that's really important. I'm reassured that they understand the importance to those of us in Wales of our national identity as well."
About 6,000 jobs were saved when Peacocks was bought but 3,100 staff were made redundant. Some 250 will remain at head office.
The deal will include 338 stores, 57 concessions, three distribution centres and the head office, said Edinburgh Woollen Mill.
But 224 stores have ceased trading with immediate effect.
Ms Willott said: "Of course, for those who will lose their jobs, including the 249 staff at the HQ who have already been made redundant, this will come as little comfort.
"These job losses are a personal tragedy and we must now work hard to help build the economy, especially here in Wales, to create new opportunities for those made redundant."
Ms Willott blamed the collapse of Peacocks on a debt the firm was "saddled on them" a few years ago as a result of an "ill-thought out deal" where people were "looking to make a quick buck".