Child dental care: Parents need more help, says Welsh assembly committee report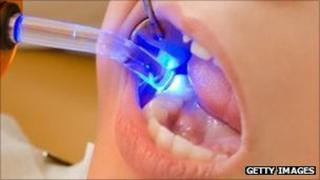 Parents need more support to ensure they keep their children's teeth healthy, a new report has found.
It is one of 10 recommendations from the Welsh assembly's children and young people committee.
It has been examining the effectiveness of the Welsh government's programme to improve children's oral health, called Designed to Smile.
The Welsh government currently provides some nursery children with toothbrushes and fluoride varnishes.
Last year, Wales' chief medical officer Dr Tony Jewell said more work had to be done to improve the state of children's teeth.
In his annual report he said "alternative methods" were needed so teeth could benefit from fluoride.
The committee said a significant number of school children were affected by dental decay, with disease levels being highest in deprived areas.
Committee members found that a more consistent message was needed about the importance of getting fluoride onto children's teeth as part of their daily regime.
Speaking ahead of the report's launch at Jenner Park Primary School, in Barry, committee chair Christine Chapman said: "Although preventable, dental decay is still the most common childhood disease, and the dental health of children in Wales is among the worst in the UK.
"The evidence so far suggests there has been a good uptake of the Designed to Smile scheme.
"However, the scheme appears to fall down slightly when it comes to the home brushing element, and that's why one of our main recommendations is to provide more information to parents about the importance of good oral health."
Designed to Smile, launched in 2009, provides more than 60,000 children with a toothbrush in school as well as fluoride varnish to three to five-year-old children.
The committee recommended the Welsh government provided more support for parents to ensure they understood the "important role they have to play in keeping their children's teeth healthy".